When it comes to radical discourse on Middle East policy, American university campuses are a fertile breeding ground. Zealots from both sides typically dominate the discourse.
But it is not unusual for moderate pro-Israel and pro-Palestinian students to coalesce in constructive dialogue or to co-sponsor events on campus. In fact, as much as you find vociferous divisive, conflict-ridden discourse on American university campuses, you find constructive dialogue between young people who are trying to make sense and to infuse some sense into the discussion of Israeli-Palestinian relations.
Earlier this week, I spoke at the University of Miami, Coral Gables, together with Ghaith al-Omari of the American Task Force on Palestine. Ghaith and I often talk to students to underscore the notion that relations between Israelis and Palestinians should not be - and are not - a zero-sum game, and that a two-state peace deal between Israel and a future Palestinian state is a win-win for all.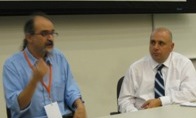 We found a lovely group of Jewish and Arab students, who for several years have been meeting regularly, exploring each other's national, cultural and religious narratives, and finding common ground.
We are proud to be playing a role in the creation of a new, moderate, peace-seeking discourse on the Middle East on American campuses.