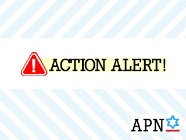 Today, Tuesday, May 24, AIPAC supporters will be on the Hill lobbying Congress to support resolutions -
H. Res. 268
and
S. Res. 185
- taking the Palestinians to task for seeking UN recognition and for trying to put together a new government that can govern both Gaza and the West Bank.
These resolutions will no doubt be sold as the "pro-Israel" thing for Congress to do. But, rather than promote Israel's interests or peace, the resolutions seem to be primarily about casting blame. That's no way to support Israel.
We need your help to tell Congress not to score political points at the expense of Israeli-Palestinian peace.