APN 2012 Israel Study Tour Gallery
A sampling of the Study Tour from December 1-7, 2012
U.S. Ambassador to Israel Dan Shapiro, on right, during his meeting with the APN Group at the U.S. Embassy in Tel Aviv. Pictured on his right are APN Chair Jim Klutznick, APN Founder and Study Tour Guide Professor Mark Rosenblum, and APN President and CEO Debra DeLee.
Jerusalem Expert Danny Seidemann being recorded during his talk to the APN Study Tour Group at the E-1 area in the West Bank; the Ma'ale Adumim Settlement is in the background.
Israeli General (ret.) Udi Dekel with APN Founder and Study Tour Guide Professor Mark Rosenblum at the Institute for National Security Studies in Tel Aviv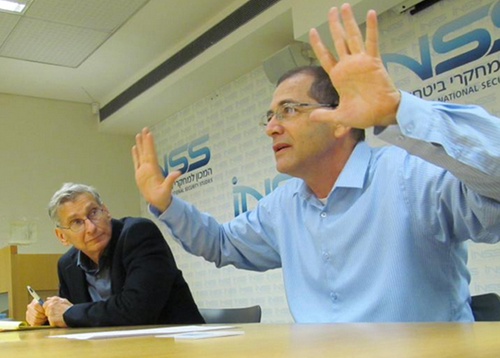 Tzaly Reshef, one of the key founders of Shalom Achshav (Peace Now, Israel), addresses the group during a dinner with veteran and new Shalom Achshav leaders and activists.
HEBRON
Peace Now Settlement Watch Director Hagit Ofran addressing the Study Tour Group in the "Ghost Town" area of Hebron where a main Arab commercial area, central bus station, and residential area has been shut down due to a small number of Israeli Settlers.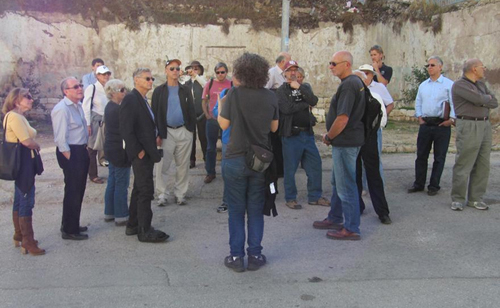 Palestinian children walking towards the Cave of the Patriarchs behind the barrier allocated for Palestinians only; The street is for Israelis only and is mainly used by settlers.
Study Tour Participant George Lewis being watched by Palestinian children.
Cave of the Patriarchs in Hebron, site where it is said Abraham, Sarah, and Isaac are buried.
SIGHTS FROM RAMALLAH, PALESTINE
Large banners were seen throughout the city. Above -- Palestinian President Mahmoud Abbas in commemoration of the UN Resolution making Palestine an "observer state". Below - a color-coded map of the vote -- U.S. and Canada in red indicating a vote against, Green in favor, Black are abstentions.