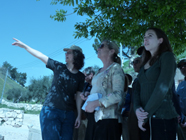 (Special to APN by Daniel Seidemann and Lara Friedman)
Attention today is riveted on
headlines
in the Israeli press reporting Israeli plans for 50,000 residential units in East Jerusalem. Coming on the heels of the Biden visit
debacle
, the interest in this report is unsurprising. Here we offer some information and analysis about the facts behind the headlines and what they mean for the prospects of peace and the two-state solution.
(picture: Peace Now's Hagit Ofran leads a tour in East Jerusalem)


The Reality Behind the Headlines:
It is not a secret that there are a large number of plans for construction in East Jerusalem in the drawers and on the desks of Israeli planners.
These include the massive settlement schemes for E1 (in the northeast), a major new settlement scheme in Atarot (in the north) and the new settlement of Givat Yael (in the south). Most of these plans are in the very early stages - assuming no obstacles (like the kind of US opposition that has kept Israel from building in E1 since the 1990s), it would still be years before most of these could be implemented. In addition there are schemes for construction within and on the edges of existing veteran East Jerusalem settlements and within Palestinian neighborhoods.
Some of these (like Shepherd's Hotel) can be implemented at any time. Some of them (Har Homa C, East Talpiyot, Pisgat Zeev, Ramot, Neve Ya'acov, Mordot Gilo, Givat Ha'matos), are moving forward at a steady, but not break-neck, pace. Others (E1, Mufti's Grove, Herod's Gate, Kidmat Tziyon) are being worked on but are not yet imminent. Others (Atarot, Givat Yael, Mazmoriyyah) are embryonic - schemes that reflect a very real aspiration but are not yet becoming operational plans.
Adding all of these plans together, one can say - accurately - that there are current and anticipated Israeli plans to build nearly 50,000 units in East Jerusalem. But this does not reflect an operational reality. It reflects a compendium of numbers taken from various categories - a mixing of apples (plans that are genuine, imminent threats), oranges (plans that are not close to being implemented but in which serious energy is being invested), and bananas (plans that right now are pipe dreams on paper). The fact is, Israel has built a total of 50,000 units in East Jerusalem since 1967 - the idea that a similar number are suddenly going to be built in the coming months or years is not realistic.
Looking at the numbers this was is not a particularly meaningful or useful exercise in terms of measuring real threats on the ground to the political process or the viability of the two-state solution.
The Politics Behind the Headlines:
It is reasonable to ask: given the fact that all of the information about settlement projects in the pipeline is generally known, why is it being highlighted today, and in such a heavy-handed way?
One answer is that following the Biden visit fiasco, interest in the Jerusalem settlement issue is high and well-known facts are now being reexamined and presented as "news." The other answer is that we are seeing a rare confluence of interests of competing agendas: those who are most worried about Jerusalem settlement activity find today an eager audience for bad news; those who want to see more settlement in Jerusalem see an opportunity to make the current tough political situation worse, and are happy to fan the flames.
Looking Ahead:
As we have already seen, the announcement of any East Jerusalem settlement construction today is enormously detrimental to the political process.
Moreover, certain of the schemes in the pipeline represent a direct threat to the viability of the two-state solution. These are those that:
seek to change the borders of Jerusalem
seek to implant additional settlers in the heart of Palestinian neighborhoods, or

seek to "weld" together existing settlement with adjacent Palestinian neighborhoods, making it impossible in the future to draw a political border between Israeli Yerushalayim and Palestinian Al Quds.
Given these very real threats, the focus today should not be on numbers-generated hysteria about Israel's "no-holds-barred" aspirations in East Jerusalem, but on identifying which East Jerusalem settlement schemes are real, imminent, and dangerous. Once identified, the goal should be to target them and look at the mechanics of how they can be stopped, either through private or public intervention. Bad things are indeed happening in Jerusalem; what is required today is sober, pragmatic resolve to put an end to them.