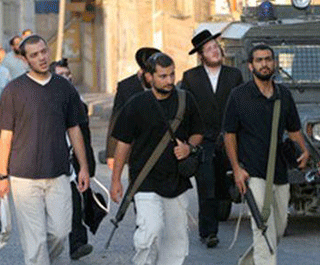 A frightened kidnapped Israeli soldier is sending a taped video message to the Israeli public. He tells who he is, assures his loved ones that his captors are treating him well. They are feeding me, he says, and adds "kosher food," as the barrel of a gun nudges his shoulder. As the camera zooms out, the viewers realize that the captors are not Hamas terrorists but rather two armed settlers.
The captive then goes on to read from a note the settlers' demands: the continuation of settlement construction throughout the West Bank, a blanket pardon for settlers who attacked Israeli security officers, and government recognition of all the distant, isolated settlements as a National Priority Development Zone. Once the soldier finishes reading, one of the settlers turns to the other and says, "But all these demands have already been met, haven't they?"
This
scene
was the opening skit in last week's episode of Israel Television's leading satire show, Eretz Nehederet. The scene's overt comparisons to Hamas' kidnapping of Israeli soldier Gilad Shalit enraged the settlers and their supporters. Yet the clip was a powerful reflection of growing anger among Israelis at the settlers' violent attacks against Israeli officials, against those who disagree with their zealotry, and against West Bank Palestinians.
Exhibit A - the most recent outrage - is the
mass of death threats
that have been sent to Defense Minister Ehud Barak's office since he became the Israeli government's front-man in implementing the settlement freeze. One such letter, quoted by Israeli Channel Ten, reads: "Mr. Ehud Barak, if you think to destroy the settlements in Judea and Samaria and to be nice to the Americans, you're mistaken. I will murder you before that happens, and if I fail to succeed, then [I will do so] after you've finished being defense minister and once you no longer have bodyguards."
Barak is not the only person who has been marked by the settlers. Shortly after stating that his forces will act decisively against unruly settler behavior, Israel's Police Commissioner Dudi Cohen
received
a letter saying: "You've been marked for the afterlife. Your day of reckoning is approaching."
As Israelis know, the nationalist right-wing zealots make good on their threats. Their orchestrated campaign of incitement led to the murder of Prime Minister Yitzhak Rabin in 1995. Last year, the recently-indicted terrorist Jack Teitel of the Shvut Rachel settlement outpost attempted to
assassinate
Peace Now activist Prof. Zeev Sternhell. Fliers that were found around Sternhell's Jerusalem home, allegedly authored and printed by Teitel, offered a million-Shekel prize for killing a Peace Now activist.
Indeed, police records of Teitel's interrogation, published last week by Israel's largest circulation newspapers, show that Teitel's planned next
target
was Peace Now Secretary General Yariv Oppenheimer.
Teitel was a unique killer. His killing spree started more than 12 years ago, and not all of his targets were related to the Israeli-Palestinian issue. But while being unique, he is not an isolated phenomenon. He is definitely not the only murderous
terrorist settler
.
According to Yedioth Ahronoth, the Shin Bet, Israel's General Security Service, estimates that "there are a few dozen who might target Israeli political officials if they were to feel that the settlement enterprise was being threatened." A much larger group of several hundred militant settlers "have no problem attacking Palestinians," according to the Yedioth report.
Granted, those who take violent action are a minority, but they are not "errant weeds," as settlers and settler-sympathizers call them. They are, unfortunately, an organic outgrowth of a large portion of Israeli society that has declared itself above the law of the state of Israel. They answer to a higher authority, and have repeatedly made clear that when state authority contradicts with their messianic Jewish edicts, their religious law reigns supreme. A petition currently organized by settler Yeshiva students, and reportedly sanctioned by Rabbi Dov Lior of Kiryat Arba, one of the leading spiritual leaders of the settler movement, says it unequivocally: "We have to clearly say what is obvious to any believing Jew - the Torah is above everything...loyalty to our Torah stands above anything else."
Violent settler activists draw their energy and legitimacy from a militant counter-culture that has been forming on the hilltops of the West Bank for years, a counter-culture of lawlessness and brutality. In recent years, hundreds if not thousands of settlers have taken part in
"Operation Price Tag."
These systematic attacks against Palestinians and Palestinian property are designed to preoccupy Israeli law enforcement and divert attention from the settlers' illegal construction projects. Often, the settlers attack Israeli law enforcement officials, in addition to targeting Palestinians. In recent months, police officers have been pelted with rocks by settlers, and the tires of police and military vehicles have been slashed. According to Israeli press reports, there was even a recent case of a Molotov cocktail thrown by settlers at a military vehicle.
What is significant about "Operation Price Tag" is that it is a coordinated community effort, sanctioned by many of the settler community's opinion leaders.
The Jewish Voice
, a popular web-based settler news-and-views outlet, last month openly incited such violence. "If there is no quiet for the Jews - there shall be no quiet for the Arabs," the site stated. "If Arabs are victorious due to violence against the Jews - the Jews shall also be victorious due to violence against Arabs." It continued: "To date, since the [settlement] freeze decree, the Civil Administration inspectors have not dared enter Yitzhar. This is because every entry into the settlement requires many troops, and ends in great damage to IDF and police property, even more damage to Arab property as well as to their bodies, and to the entire sector being set aflame for several days. When, in each settlement, a police vehicle will be unwelcome, and the Civil Administration inspectors will realize that they have ten minutes to flee before their tires are slashed - the ability of the regime to implement its decrees will vastly decrease."
The settlers' counter-culture of violence and lawlessness poses a great danger to Israeli society and to Israel's interest in achieving a historic compromise with the Palestinians. Thankfully, the Israeli security establishment and the Israeli public are becoming increasingly cognizant of this, as demonstrated by the skit on Eretz Nehederet.
Peace Now and APN play a leading role in following, analyzing and reporting on West Bank settlement growth, exposing the planning and implementation of settlement construction.
In the coming weeks, we will also focus on the violent behavior of the settlers to make sure that the Israeli public and American public remain aware of this growing threat to peace.
Stay tuned.