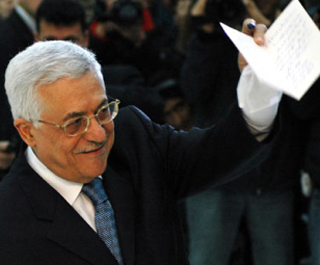 Palestinian President Mahmoud Abbas set January 24, 2010 as the date for new elections for both the presidency and the legislature of the Palestinian Authority.
Monday's
Middle East Peace Report
took a look at recent polls of the Palestinian public.
Among the findings we highlighted was the drop in Abbas's popularity such that (at least by one poll) he is in a virtual tie with Hamas leader Ismail Haniyeh.
Also noteworthy is the large number of Palestinians (45%) who said they were either undecided or would vote for one of the smaller parties when it came to the vote for parliament.
Both figures suggest that this race (if it indeed takes place in January) is too early to call.
Below are the three segments that relate to this issue from the
Middle East Peace Report
:
Abbas' Popularity Plunges: Palestinian President Mahmoud Abbas' popularity has taken a hit, according to a series of polls released this week.

Abbas' approval numbers dipped from 48.5% last October to 39.4%, according to a poll released this weekend by the Jerusalem Media and Communications Center (JMCC).

Only 12.1% of Palestinians now identify Abbas as the most trustworthy politician, compared with 17.8% in June.

The poll indicated that Abbas would run neck-and-neck with Hamas leader Ismail Haniyeh if presidential elections are held now: Abbas would receive 16.8% of the vote, compared with 16% for Haniyeh.

The JMCC poll suggested that the drop in Abbas' popularity has not carried over to his Fateh party, which it finds would receive 40% of the vote in elections, compared to 18.7% for Hamas.

Another series of polls of the Palestinian public, conducted by Arab World for Research and Development (AWRAD), "show that Palestinians are dismayed and dissatisfied with the status quo, as support for Hamas and Fateh, Abbas and Haniyeh is declining," according to pollster, Dr. Nader Said-Foqahaa.

The AWRAD polls indicated a rise in the percentage of Palestinians - to 47.5% - who say they support smaller, independent parties or say they are undecided. (Haaretz, 10/19/09; DPA, 10/18/09; AWRAD, 10/14/09)

Abbas' Popularity Plunges, Part II: The drop in Palestinian President Mahmoud Abbas' popularity is widely believed to be related to his handling of the Goldstone Report before the UN Human Rights Council.

The Goldstone Report alleges human rights violation committed during the Israeli military operation last winter. Facing Israeli and American pressure, Palestinian diplomats initially allowed a vote on the report to be postponed. After a domestic backlash, the Palestinians changed course and encouraged the Council to pass a resolution embracing the Goldstone Report.

Former Israeli Education Minister Yossi Sarid takes Israel's leaders to task for their handling of the situation: "Mahmoud Abbas might as well be considered a dead man; Benjamin Netanyahu and Ehud Barak have killed him," wrote the poet-turned-politician-turned-pundit in Haaretz. "Following a brief and angry meeting, they left a cyanide pill for him on the table and exited the room. He still managed to make two or three trans-Atlantic telephone calls and in a moment of despair swallowed the Goldstone report... To force the chairman of the Palestinian Authority, of all people, to withdraw his demand for a discussion of the report - that is an Israeli-American dictate tantamount to pressuring him to commit hara-kiri."

Sarid compares Israel's efforts on this front to the manner in which Britain and France handled Germany after the First World War, a historic error that is often considered a primary factor in Adolf Hitler's rise to power: "History repeats itself, but does not teach any lessons. It is full of examples of short-sighted stupidity - of how people cannot make do with victory and insist on abusing the bull's body. This arrogant abuse creates a fertile ground for calamity and always ends with a high cost." (Haaretz, 10/16/09)

Hamas Pushes Its Advantage: Unity talks between Fateh and Hamas appear stalled after Hamas refused to give an unequivocal response to an Egyptian proposal to deal with the schism in Palestinian governance.

The Egyptian proposal reportedly would schedule new presidential and legislative elections for next June. Until those elections are held, security in Gaza would be provided by a force comprised of a mix of Fatah and Hamas loyalists. Special committees would be set up to oversee the work of the security force and to prepare for elections.

Egypt asked Fateh and Hamas to respond with a simple "yes" or "no" answer. Fateh consented to the plan in Cairo on Thursday. Hamas, however, said it had reservations.

Palestinian President Mahmoud Abbas threatened that if Hamas failed to accept the Egyptian initiative, he would unilaterally set the elections for January. PLO Secretary Yasser Abed Rabbo called Friday for Arab and international monitors to guarantee the elections process, even if Hamas refuses to approve them.

Writing about the state of play of these negotiations, IDF Colonel (Ret.) Shaul Arieli explains that in the wake of Abbas' perceived diplomatic failures, Hamas is trying to renegotiate the deal to its advantage: "In essence, its intention is to phrase the agreement in such a way as to annul Abbas' diplomatic freedom on the pretext that he has lost the trust of the Palestinian people. Fateh is now forced to move quickly and accept reconciliation before the agreement changes, simply to survive politically, both within the PLO and in its struggle with Hamas to represent the Palestinians." (Haaretz, 10/13 &10/18/09; Jerusalem Post, 10/15/09; Ma'ariv, 10/18/09; Ma'an, 10/17/09)