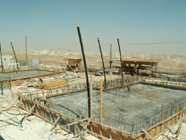 by Tovah Lazaroff , THE JERUSALEM POST

Peace Now charged Monday that settlers had accelerated the pace of construction and started work on more than 800 new homes in the last three months to thwart US demands that they stop building.
"Settlers are working fast to produce as many construction starts as possible," so that the new homes would be counted as existing construction and not be included in any agreement to freeze construction that might be reached with the US, Peace Now said in a report issued on Monday.
The government has said that close to 3,000 homes were under construction in West Bank settlements. It has said that it was willing to place a temporary moratorium on the issuance of new construction permits, as a gesture to the Palestinians and the Americans, but it has not been willing to stop work on the homes already being built.
The bulk of this construction is in the larger settlements of Modi'in Illit, Betar Illit, Ma'aleh Adumim and Givat Ze'ev.
But Hagit Ofran of Peace Now said she did not believe that many of the 800 housing starts her group had counted could be part of the 3,000, which Prime Minister Binyamin Netanyahu has said would be excluded from any settlement freeze.
In 34 settlements, including 16 outside the security barrier route, work has started on new homes in the past three months, Ofran said.
Among the larger heretofore unknown projects on her list were 80 new homes in the Gush Etzion settlement of Elazar, located 5.5 kilometers over the pre-1967 armistice line, but within the route of the security barrier, and 80 new homes in Kiryat Arba, located 15.2 kilometers over the pre-1967 line and outside the security barrier route.
The largest project, 120 new homes, was in the Gush Etzion settlement of Har Gilo, located 1.8 kilometers over the Green Line. That project was highly publicized a month ago when Defense Minister Ehud Barak authorized 149 new homes in Har Gilo.
In Nokdim, where Foreign Minister Avigdor Lieberman lives, 10 new homes were started in the last there months.
Other projects that Peace Now said were begun in that time period include those in Tekoa, 70; Maskiot, 20; Kochav Hashachar, 27; Ma'ale Michmash, 20; Avnei Hefetz, 10; Ma'ale Shomron, 10; Maon, 10; Oranit, 30; Alonei Shilo, 2; Betar Illit, 36; Barkan, 62; Givat Ze'ev, 18; Dolev, 8; Kochav Ya'acov, 12; Kfar Adumim, 70; Kfar Etzion, 10; Carmel, 1; Mevo Horon, Matittyahu, 15; Na'aleh, 44; Elkanah, 30; Pedu'el, 2; Tzofim, 10; Kedar 42; and Kalia, 8.
In Alon Shvut, Shilo and Yitzhar it was unclear how many homes were under construction, said Peace Now. It added that a school had been started in Talmon and work had begun on industrial or agriculture buildings in Mevo Horon.
The Council of Jewish Communities of Judea, Samaria and the Gaza Strip, which has bitterly complained about Netanyahu's failure to issue new constructions permits since taking office in March, said that there was already a de facto freeze on new construction.
Its chairman Dani Dayan told The Jerusalem Post that the only new permits that had been issued this year were the 492 Barak authorized in the past two months.
And those were "recycled" projects that had previously been permitted, but were delayed, said Dayan.
"I am quite tired of reacting to every Peace Now finding," he said.
Gush Etzion Regional Council head Shaul Goldstein accused Peace Now of becoming a "foreign agent for foreign governments." Peace Now's "spying" should be stopped, he said.
"It is totally provocative against the relations between Jews and Arabs," said Goldstein.
The best way to achieve peace would be to close Peace Now, he said. As long as it exists, he said, "there is no chance for peace."
http://www.jpost.com /servlet/Satellite?cid=1254756249429&pagename=JPArticle%2FShowFull