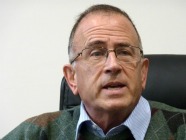 In light of recent developments in Egypt, Alpher assesses the wisdom of the Netanyahu government's decision to instruct Israeli diplomats to lobby for maintaining the status of Egypt's military rulers.
Q. Last week, PM Netanyahu stated, in an "I told you so" vein, that the Arab revolutions were ushering Islam into power in a development that is anti-democracy and anti-Israel. Do you agree?
A. I believe Netanyahu, and presumably those who advise him, made three mistakes in presenting this assessment. First, the prime minister should have maintained the admirable policy he adhered to until now of not speaking at all about the Arab revolutions, lest Israel in any way be accused of involvement. Israeli diplomats abroad were reportedly instructed recently to lobby for maintaining the status of Egypt's military rulers--as if someone is really going to listen to them.
Second, as I have been stating since the outset, the relevant Arab states are in a revolutionary mode in which it is impossible to predict the outcome with any accuracy or credibility. So Netanyahu's assessment is presumptuous. And third, what we have witnessed thus far is indeed the rise of political Islam with its strong negative attitude toward Israel. But, at least until now, this has not happened at the expense of democracy but rather through the vehicle of democracy.
This doesn't mean that at the end of the "Arab spring" Netanyahu will not prove to be correct, particularly if elected Islamist movements end up subverting democracy and human rights. But by preempting the course of events with his negative assessment, he is depriving Israel of the basis for taking initiatives toward its neighbors in order to enhance its capacity to maneuver and absorb new developments in those countries. Conceivably, that is Netanyahu's intention, too. After all, it's not as if he took peace and conciliation initiatives when Arab despots were in power.
Netanyahu is also placing Israel at odds with the approach of the Obama administration, which is encouraging developments (for example in Egypt, where it calls upon the SCAF military rulers to hand over power to civilians immediately) that are likely to deliver power to political Islam. Last week, Netanyahu reminded the US that he had opposed the forced resignation of Egyptian President Hosni Mubarak last February. While the intelligence behind Netanyahu's assessment may prove true, the wisdom behind his condemnation of the Arab spring and confrontation with the US is highly questionable.
Curiously, last week Finance Minister Yuval Steinitz proclaimed that the Arab spring had actually reduced the danger of war, thereby making possible cuts in Israel's defense budget.
Q. Can you be more specific regarding the evolution of rule in the Arab states currently undergoing regime change?
A. Last week produced a dramatic series of new developments in the relevant Arab states. While this only reinforces the dictum that these revolutionary situations are still evolving, it also offers a convenient juncture, nearly a year into the "Arab spring", for taking stock.
Q. Start with Egypt, the most important Arab country.
A. The Egyptian revolution found itself last week back at Tahrir Square, with heavy casualties inflicted among demonstrators by the armed forces. With parliamentary elections--a long, drawn-out process that will take months to complete--scheduled to begin on Monday this week, a three-way struggle for power is emerging.
The Muslim Brotherhood and additional Islamist parties are predicted to gain a plurality if not a majority; partial results should provide a fairly accurate projection within days. The secularists who instigated the revolution are still far too diffuse and schismatic to succeed at elections--polls award them relatively few votes--and want them postponed. London-based pan-Arab al-Quds al-Arabi editorialized last week that the secularists "are standing aside as observers in this conflict between the two largest elephants in Egypt", the Islamists and the army.
The latter, in the form of the ruling Supreme Council of Armed Forces, is under pressure from both Islamists and secularists and has begun backing down on its intention to hold onto effective power for another year and a half. But it still wants to remain, even after that, a virtually autonomous supreme security entity somewhat along the lines of Kemalist Turkey. Thus it has offered concessions that would move forward the appointment of an elected government to mid-2012. But it has not backed down regarding the unelected constitutional role it assigns itself, and it appears to resent Obama administration demands ("foreign interference") to step down.
The short term prognosis is for Islamist electoral gains. The tension between the SCAF and civilians is not likely to diminish. The economy will continue to decline. A coup by disgruntled military officers is not beyond the realm of possibility. Regardless of who is in power in Cairo, lawlessness and terrorism will continue to plague the Sinai-Negev border during the months ahead.
Q. Syria?
A. President Bashar Assad and his Alawite supporters are defying the Arab League, which last week launched a process leading to economic sanctions, as well as the West and Turkey. France and Turkey (and to a lesser extent Jordan) have broached the possibility of opening up enclaves inside Syria where refugees could find shelter. Turkey has begun training and supporting armed activity by Syrian army defectors, who now number over 30,000. In an unusual case of intervention by a normally passive neighbor, Jordan's King Abdullah II recently advised Assad to step down.
Indeed, the revolution inside Syria is increasingly taking on military dimensions, with attacks by armed dissidents on military installations and personnel in Damascus and heavier casualties among security forces as against civilians. Assad still has the support of Iran and Hezbollah, and still threatens to attack Israel if he confronts international intervention.
The situation in and around Syria (e.g., Lebanon) increasingly reflects the Sunni-Shiite divide throughout the Arab world and Iran. The Alawites, lest we forget, are a breakaway sect of Shia Islam. Saudi Arabia, self-appointed protector of Sunni Islam, is leading the Arab League offensive against Assad. Surprisingly, it is difficult thus far to pinpoint a dominant Sunni Islamist element (e.g., Muslim Brotherhood) leading the opposition to Assad. But this may be just a matter of time; the Brethren have shown in Egypt and Tunisia that they know how and when to remain in the background, and how and when to step forward with their organizational skills, money and leadership.
Q. Where else are Sunni-Shiite and Saudi-Iranian tensions playing themselves out?
A. First and foremost, in Bahrain and Yemen, where the Saudis have actively intervened against Shiite or Shiite-aligned elements whom they perceived to be manipulated or led by Iran. In Bahrain, since Saudi military intervention there has been relative quiet. In Yemen, President Ali Abdullah Saleh may or may not have really resigned to make way for elections, while tribal and factional fighting remains the order of the day. But the Saudis seem satisfied that the Houthi tribe in the north of the country, whose Zaidi religious affiliation is close to Shia Islam, is not currently a threat to power.
Q. And the Palestinians and Jordan?
A. Last week witnessed a meeting in Cairo between Fateh leader Mahmoud Abbas and Hamas leader Khaled Meshaal. It apparently made little progress toward establishing a unity government, though both leaders continue to pay lip service to May elections. A rare visit to Ramallah by Jordan's King Abdullah was apparently intended to signal Abbas that the Hashemite Kingdom would not look kindly on any aggrandizement of the Hamas presence in the West Bank; Abdullah has his hands full with Islamist and other pressures across the Jordan River. While the Saudis are offering him serious financial and political support, it's doubtful they can compensate for a possible loss of support for Abdullah from the usually loyal Bedouin tribes in southern Jordan.
One area where Israel could contribute substantively to Jordan's stability is the peace process with the Palestinians. Abdullah desperately needs to reassure his own citizens, roughly half of whom are Palestinian, that a solution will emerge. Since Netanyahu apparently has no intention of moving forward on the peace process, his foreign minister, Avigdor Lieberman, did the "next best thing" a couple of weeks ago when, in an unusual policy pronouncement, he reassured the Hashemites of Israel's support for their sovereignty and identity. In other words, he poured cold water on the right-wing extremists in his own government who regularly get on Jordan's nerves by talking about "Jordan is Palestine" (known in Amman as the "alternative homeland" project) as their solution for holding on to the West Bank.
Q. That leaves North Africa.
A. Here, once again, the order of the day is political Islam, though in potentially vastly different dosages. In Libya, with its lack of any sort of civil society infrastructure and its powerful regional and tribal rivalries, anything resembling a strong secular movement that might counter the Islamists is doubtful. In Tunisia and, as of Monday in Morocco, Islamist parties have won pluralities in democratic elections and are expected to form governments. It is in these two countries, more than any others in the Arab world, where we will witness the first test of the capacity of political Islam to tolerate genuine democracy and human rights.
Q. In conclusion, what are the threats to Israel?
A. The biggest immediate danger is if Bashar Assad makes good on his threats and Syria and Hezbollah attack Israel. This could easily escalate into heavy destruction in Lebanon and even conflict with Iran.
A second immediate threat is the danger of deterioration in Israel's relations with Egypt and Jordan caused by their extreme sensitivity at this point in their history to perceived affronts to Muslim sensibilities. By way of example, on Sunday, at the last minute, Netanyahu cancelled a planned renovation of the Mughrabi walkway leading from the Western Wall plaza to the Temple Mount after Cairo and Amman warned that this would give their Islamists a political "casus belli".
A broader threat that is much more difficult to pinpoint could be posed by the rise to power of Islamists in Egypt, the West Bank and/or Jordan. How this process might play out is virtually impossible to predict. In the best case, a neighboring Islamist regime maintains the status quo of peace and non-violence, however frostily. In the worst case--not deemed likely at this juncture--it seeks to void treaties and agreements and sponsors aggression. Iran could always be a factor here; so could unrest in Iraq, now that the United States is pulling out.
In virtually any and all scenarios, the role of Washington and Saudi Arabia, who hold both purse strings and (in the case of the Saudis) religious influence, could be crucial. This provides one more reason why Israel should be adopting a more pro-active and less alarmist pose, even allowing that its fears are genuine and in some aspects well-grounded.
Yossi Alpher is an independent security analyst, co-founder and co-editor of the Israeli-Palestinian internet dialogue bitterlemons.net and Middle East roundtable bitterlemons-international.org. He is the former director of the Jaffee Center for Strategic Studies at Tel Aviv University and a former senior official with the Mossad. His views do not necessarily reflect those of Americans for Peace Now.