A day after another West Bank mosque went up in flames again, Israeli Television (Channel One) today reported that law enforcement authorities have zeroed in on the settlers who torched another mosque, in the West Bank village of Yasouf, in December 2009.

According to the report, the Shin-Bet and the Police know who the terrorists are, but they have not been arrested yet because of intelligence considerations - whatever that means.



Unlike the fire in Yasouf six months ago, there was no overt sign that settlers torched the mosque at Lubban a- Sharkiyya Monday night. There was no graffiti and police investigators say they could not find traces of flammable material.
But evidence at the mosque doesn't leave much room for doubt. The fire erupted in two separate points at the mosque, where copies of the Quran were carefully piled on the floor. Muslims never put their holy book on the floor. Doing so is considered heresy.
Mosques don't just go up in flames. People burn them in order o fan the flames of hatred and strife, in order to foment violent retribution. It's not the first time.
Israeli authorities must act quickly and decisively to protect Palestinians from the settlers' terrorism and to protect Israelis from the repercussions of these hooligans.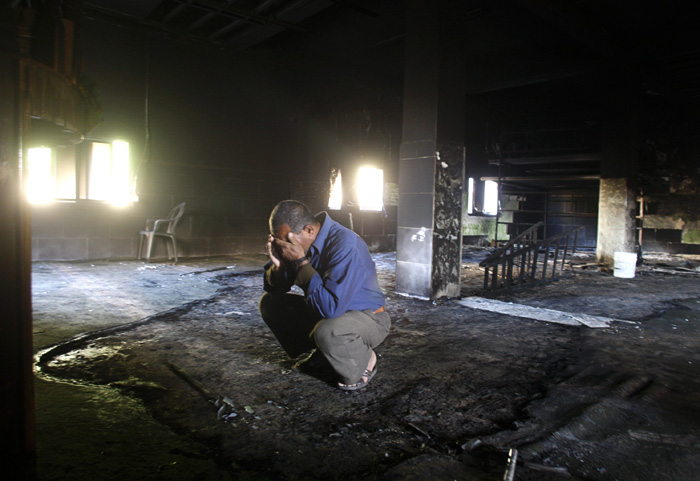 Palestinian at the burned Mosque in Lubban al-Sharkiyya
Photo credit: Reuters
Burned copies of the Quran at the mosque.
Photo credit: Combatants for Peace