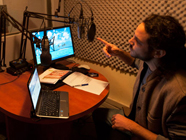 By Amichai Atali

JERUSALEM (AP) -- Israel has ordered the shutdown of a dovish Israeli-Palestinian radio station, officials and the station's operators said on Sunday.

(NOTE: The station's director Mossi Raz is a former director of Peace Now in Israel)
The station and other critics said the move was politically motivated, and part of a broader assault on democracy by conservative forces in the government.
Some members of Prime Minister Benjamin Netanyahu's coalition have pushed forward a series of measures recently that critics say are aimed at stifling opponents.
Among the proposed legislation are attempts to block most foreign funding for dovish nonprofit groups, lowering the threshold for politicians to file libel suits against the media, and a push to shift control of Supreme Court appointments from an independent panel to parliament.
Conservative lawmaker Danny Danon boasted that he had helped close the "All for Peace" radio station. Danon, a member of Netanyahu's Likud Party, claimed the Communications Ministry shuttered the station at his request, after he claimed it "incited" against Israel.
"A radical leftist station that becomes an instrument of incitement must not be allowed to broadcast to the broader public," Danon said.
Operators of "All For Peace" radio said they complied with a shut-down order issued last week. Israel's communications ministry confirmed it issued the order, and said the station was broadcasting into Israel illegally.
The ministry, headed by a Likud Cabinet minister, said in a statement that the station's Hebrew-language broadcasts inside Israel were "economically damaging local radio franchisees." It did not mention the issue of incitement.
Mossi Raz, the Israeli director of the station, said that it transmits from the West Bank where it is not subject to Israeli law. He told Israel Radio that the station, which has been operating since 2004, would go to court in Israel to try to get back on the air.
Raz also said the ministry had never questioned the legality of the station's operations in the past, and that the Israeli Government Press Office has issued press cards to the station's journalists.
The string of moves against Israel's dovish left wing has drawn heavy criticism of the government, and there have been signs that the government may be backing down.
On Sunday, an official in Netanyahu's office said the prime minister oppose a bill that would allow lawmakers to veto Supreme Court appointments. Conservatives say the court has a liberal bias.
He spoke on condition of anonymity because he was not allowed to publicly discuss Netanyahu's position.
Israeli journalists also oppose the tightening of a libel law that critics say would put a major chill on investigative reports.
The closure of the radio station "joins a wave of legislation and other measures against a free press in Israel that very much worries anyone who cares about Israeli democracy," said Danny Zaken, the head of the Israeli journalists' association.

http://www.npr.org/templates/story/story.php?storyId=142560606