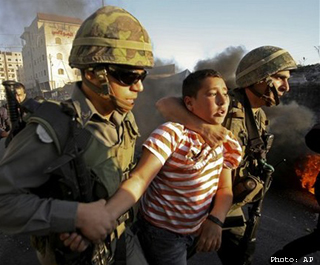 CONTACT: Ori Nir (202) 408-9898
Washington, D.C - Americans for Peace Now (APN) today expressed alarm at the spiraling violence in Jerusalem and urged the Obama administration to take immediate action to help stop the deterioration.
"Recent history teaches us that clashes in Jerusalem have a tendency to ripple throughout the region..."
What happens in Jerusalem does not stay in Jerusalem. Provocative
actions in Jerusalem have in the past triggered extended, large- scale
waves of violence, and such waves could derail the administration's
laudable efforts to jump-start Israeli-Palestinian negotiations toward
a two-state solution," said APN President and CEO Debra DeLee.

"Extremists will always try to derail peace efforts. It is the duty of
stakeholders in Middle East peace efforts to deny the extremists their
role as spoilers. It is the duty of our government, as well as the
governments of the Palestinian Authority, Israel, and its Arab
neighbors, to do everything they can to defuse the hostilities and to
redouble their efforts to achieve peace," DeLee said.

More on this issue:
Clear and Present Danger, special analysis from Danny Seidemann (Ir Amim) and Lara Friedman (APN)

Listen to an interview with Peace Now's Hagit Ofran speaking from Jerusalem
Netanyahu, the Tunnels Opener, writing for the Huffington Post Hagit Ofran reveals Netanyahu's role in the escalating tensions.