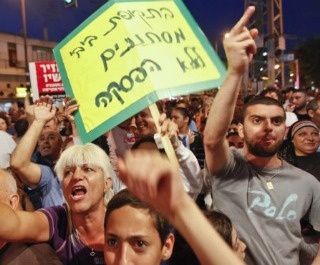 The outrage that took place in Tel Aviv last night must be a wake-up call to Israelis and to all American Jews who care about Israel.
All of us who love Israel and are committed to peace and a democratic Israel are disgusted and outraged by the events that took place last night in Tel Aviv, where a xenophobic demonstration turned into a race riot targeting African migrants. Some Israeli elected officials, including from the ruling Likud party of Benjamin Netanyahu, fanned the flames of hatred at the demonstration. Likud Knesset Member Miri Regev, for example, called African migrants "a cancer in our body."
The ongoing dehumanization of African migrants, legal or illegal, is just the latest symptom of the erosion of democratic values inside Israel. It is part and parcel of the growing intolerance and dehumanization aimed at the Israeli left, at organizations working for human and civil rights, and at the longstanding dehumanization of Palestinians, both Israeli citizens and those living in the West Bank, East Jerusalem, and Gaza. It is no coincidence that the Israeli politicians at the heart of this outrage - including not only MK Regev but also MK Danny Danon, and MK Michael Ben-Ari - are the leaders of pro-settler, anti-democratic, racist, and anti-peace efforts in the Knesset.
Last night's broken glass and racially motivated attacks are alarmingly reminiscent of the darkest days of America's pre-civil rights era and of Jewish history in Europe. Israel, like many countries, is facing legitimate challenges from illegal immigration, but in a democratic country with rule of law, such challenges are not dealt with through racist pandering and mob violence. Knesset Speaker Ruben Rivlin (Likud) today warned his fellow Knesset members "we must not use the language that anti-Semites use against us." Likewise, we cannot stay silent when fellow Jews adopt the same tactics and actions that anti-Semites have used against our people throughout our history, whether inside sovereign Israel or in the occupied territories.
In the wake of this outrage, in Tel Aviv, the head of the Israeli Peace Now movement (Shalom Achshav) -
Yariv Oppenheimer
- called on Israel's attorney general to investigate Knesset members involved in the event for incitement to violence.
Read more from APN's Lara Friedman
here