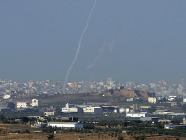 Washington, DC - Americans for Peace Now (APN) today expressed serious concern about the rapidly escalating conflict in the Gaza Strip and southern Israel. APN urges the Obama Administration to urgently engage with Israel, regional parties, and the international community to bring about an immediate halt to the hostilities.
---------------------------------------------------------
APN Resource Page on the Gaza Crisis
---------------------------------------------------------
APN mourns the loss of life and the suffering of innocent civilians on both sides. APN categorically denounces the firing of rockets and mortar rounds from Gaza into Israel and expresses its solidarity with the residents of communities in southern Israel. There is no justification for the targeting of civilians, and Israel has the right and the obligation to protect its citizens from such attacks and threats. At the same time, Israel's leaders must at long last recognize that military power alone has failed and will continue to fail to prevent rockets from being fired. Exercise of this power, on its own, will never ensure Israel's long-term security and stability on its border with Gaza. Military power cannot address the underlying issue of Israel's unresolved relationship with Hamas-ruled Gaza. That issue will only be resolved through diplomacy.
This escalation is just the latest symptom of years of successive failed policies, irresponsible actions, and a lack of strategic thinking that have permitted the situation in Gaza to remain on a slow boil.


You may have noticed a new feature over the past few days. We have begun hosting a new application (below) that encourages discussion and debate. We encourage you to vote, and even more, to discuss! Join the conversation!