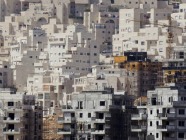 Washington, DC - Americans for Peace Now (APN) is deeply concerned about today's announcement that Israel is moving forward with plans to build 1,300 new apartments in East Jerusalem.
"No Israeli-Palestinian peace agreement can be reached unless the parties find a way to share Jerusalem. Unilateral Israeli action that expands settlements in this area makes reaching a deal more difficult," said Debra DeLee, APN's President and CEO
"Prime Minister Benjamin Netanyahu claims that he wants to sit down face-to-face with the Palestinian leadership and negotiate a peace agreement. Today's announcement -- which could only have happened with Netanyahu's consent -- belies a different agenda," DeLee said.
DeLee added: "Today's announcement comes on the heels of the release of tenders for the construction of an additional 238 residential units in East Jerusalem. Jerusalem is a potent symbol for Israelis and Arabs, for Jews, Muslims, and Christians. Settlement expansion here is akin to playing with fire. The time for strong American leadership in the Israeli-Palestinian arena is now. President Barack Obama must make clear that there are consequences for moves, like this one, that set back the cause of peace."
APN is America's leading Jewish organization advocating for Middle East peace.