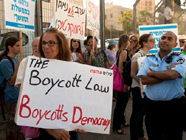 APN is deeply concerned by the escalation in attacks on Israel's democracy coming from the Israeli Knesset (the parliament).
On July 11, the Knesset passed a measure making it illegal to in any way call for boycotting Israel or West Bank settlements. This legislation, a flagrant attack on freedom of speech in Israel, comes on the heels of a series of bills - some of them already enacted - which aim to stifle dissent and restrict the rights of civil society organizations, including groups working to promote peace, human rights, and civil rights within Israel.
The Knesset adopted the so-called "Boycott Law" despite a legal opinion submitted by the Knesset's own legal advisor, which characterized the bill as "a blow to the core of political expression in Israel."
Commenting on the new law, APN's President and CEO, Debra DeLee said: "Yesterday was a black day for Israeli democracy. It is alarming that the Knesset, the very institution charged with safeguarding democracy, is systematically shrinking the space for free speech in Israel."
"West Bank settlements threaten Israel's character as a Jewish state and a democracy. They force Israel to rule over a huge disenfranchised population, contrary to basic democratic values. They extinguish hope among Palestinians that Israel is serious about peace. They destroy the credibility of Palestinian moderates who reject violence and tell their people that negotiations will deliver a viable state. They are a security risk and a drain on Israel's economy."
"Because of all that, West Bank settlements have always played a major role in Israel's public and political discourse. This outrageous law attempts to shield the settlements from public debate."
"Israel's Supreme Court will now examine the constitutionality of this measure. We very much hope that the Court, a bastion of Israeli democracy and common sense, will strike this draconian law."