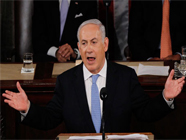 Yesterday an Israeli Ministerial committee voted to support two new bills that directly target Israeli democracy. See relates articles from the Washington & Jerusalem Posts.

The purpose of these bills is to quash Israeli civil society groups, including those fighting for peace, human rights and civil rights, by fatally curtailing their ability to raise funds.
The approval of these bills, which later this week will go to the full Cabinet for approval, comes days after Peace Now leader Hagit Ofran was targeted by Jewish terrorists with death threats and the same week as the 16th anniversary of the murder of Israeli Prime Minister Yitzhak Rabin at the hands of an anti-peace Jewish terrorist.
APN President and CEO Debra DeLee, commented:

"APN is appalled by the decision of the Israeli government to push these two openly anti-democratic, anti-peace measures." The Netanyahu government and members of the current Knesset appear to believe they can strip the word 'democracy' of all meaning and erase Peace Now and the rest of Israeli civil society - explaining it away with hollow talking points about 'delegitimization,' 'transparency,' and 'defending Israel'.
"Today we echo the words spoken this past weekend by our friend and colleague Hagit Ofran at the Yitzhak Rabin Memorial rally: 'The answer to attempts to silence us is to shout louder.' Hagit was referring not just to the previous week's bomb threat against Peace Now's office or to the death threats spray painted on her home by Jewish terrorists - part of a clear escalation in extremist, terrorist Jewish activity in the West Bank and Israel. She was referring also to the ongoing campaign in the Israeli Knesset to destroy Israeli civil society organizations that work for peace, human rights, and civil rights.
"Hagit went on to say, 'what some people do to us on the street with spray paint and threats, the Knesset and the government are trying to do to us by legislation. With furious and violent discourse they are trying to silence the public debate. They are trying to legislate against the expression of certain opinions and they are trying by legislation to prevent organizations from operating. They are trying to silence media that don't please the government. Such a Knesset is a Knesset with spray paint on its hands that sets the tone and gives inspiration to the violent actions we see on the streets against leftist and Arabs and anyone who does not agree with them politically.'
"American friends of Israel cannot remain silent in the face of this assault on Israeli democracy and the parallel rise in Jewish extremism and terror. Israeli legislators and Israeli leaders must understand that their actions risk undermining the American Jewish support for Israel - support based on the shared democratic and Jewish values of free speech, pluralism, and tolerance. Just as American Jews speak out when Israel is attacked by external foes, we must do so now as Israel comes under attack from within, at the hands of politicians who mistakenly believe that "democracy" is synonymous with "tyranny of the majority" - politicians who are ready to sacrifice Israeli democracy on the altar of settlements and continued occupation."