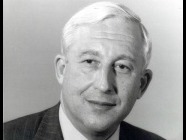 Washington, DC - Americans for Peace Now is mourning the death of Arthur Stern, one of APN's longtime leaders. Arthur died in his home in Los Angeles overnight at 87.
Arthur was born in Budapest, Hungary in 1925. His amazing life story combined Holocaust-era heroism, scientific excellence, pioneering technological innovation, passionate pro-Israel activism, Jewish community volunteer work, and a stellar devotion to peace and justice.
A graduate of Hungarian and Swiss Jewish seminaries, Stern survived the Bergen-Belsen concentration camp, studied electrical engineering in Switzerland in the mid-1940s and immigrated to the United States in 1951 to launch a remarkable career as an innovator in electronics.
Stern played a leading role in General Electric's development of America's first color television. Then, as an expert on transistor technology, he managed the Advanced Circuits group at GE's Electronics Laboratory and the company's Electronic Devices and Applications Laboratory, where he worked on several groundbreaking technologies, including laser technology. Stern later was the head of Martin-Marietta's Electronics Division and the head of Magnavox's research laboratory, where he pioneered the satellite navigation devices that were rapidly deployed in commercial, military and private ships. He was also a pioneer developer of Global Positioning System (GPS), the technology used in today's vehicle and smartphone navigation systems.
Upon retirement in 1990, Stern was elected president of America's Institute of Electrical and Electronics Engineers. He was the first American Jew to hold the job.
Stern quickly harnessed his energy and passion to a myriad of Jewish community and pro-Israel causes, from advancing peace for Israel to assisting it with the monumental task of absorbing the flow of Russian Jews, and fighting for social justice and the advancement of Israel's civil society. In addition to his leadership role with APN, Stern was active with the New Israel Fund, the Jewish Federation of Greater Los Angeles, LA's Bureau of Jewish Education, the Progressive Jewish Alliance, and many more.
Arthur was a longtime senior member of APN's Board of Directors and co-chair of its Los Angeles chapter.
In a message sent this morning to the Board, APN's President and CEO Debra DeLee wrote: "Arthur was our moral compass." She added, "Arthur was driven by core values that set a moral imperative for our debates on the myriad of issues that we struggle with as an organization." "He was brilliant, funny, impatient, generous and stubborn. He didn't suffer fools lightly, and when you were rewarded with that delighted, somehow-angelic-looking smile, you knew you had done well."
Arthur Stern's memory and legacy will be a blessing, an inspiration and a guiding light for Americans for Peace Now.