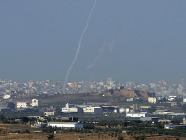 Americans for Peace Now (APN) today issues the following statement regarding the ongoing escalation between Israel and the Gaza Strip
:
------------------------------------------------
APN Resource Page on the Gaza Crisis
-------------------------------------------------
In recent days the world has witnessed a dangerous military escalation between Israel and Hamas, one that is startlingly similar to what unfolded in 2008-2009. We strongly denounce, once again, the firing of rockets and mortar rounds from Gaza into Israel and express our solidarity with Israelis who today are under fire. We have always asserted, and continue to assert, that the government of Israel has the right and the obligation to take measures to stop rocket attacks against its citizens and to defend the security of its people and borders.
We are also deeply concerned over the death and injury to Palestinian civilians living in the tiny, densely populated Gaza Strip - civilians for whom there is no safe shelter and no way to flee, and whose families, homes and businesses are again bearing much of the brunt of Israel's military operation. We have consistently held that Israel should avoid actions that constitute collective punishment or cause disproportionate suffering or casualties among Palestinian civilians. Such actions are counterproductive and fundamentally wrong.
We mourn the loss of life and suffering on both sides. Further escalation will serve only the cause of extremists, while increasing the peril to both soldiers and civilians. We caution the Obama Administration and all those who support Israel and Israeli-Palestinian peace that the current crisis threatens the very possibility of peace and the two-state solution. The present Israeli government appears determined to pursue policies designed to close the door on the two-state solution in the West Bank and East Jerusalem, putting the viability of a negotiated peace agreement already into question. President Abbas' standing as a Palestinian leader unshakably committed to such a solution is seriously degraded. Continued escalation in Gaza will only bolster this trend. It also threatens critically important Israel-Egypt relations and regional stability.
APN Call to President Obama

We call on President Obama to engage energetically to induce both sides to halt the fighting and implement a ceasefire, recognizing that security and stability in this region must be a U.S. national security priority. As was the case in 2008-2009, the real questions today are: how many more innocent Israelis and Palestinians will die or be wounded before a ceasefire is implemented? How much less international sympathy will Israel have when this round of fighting ends? How much bigger will the disaster on the ground be, both in Israel and Gaza, once a ceasefire is achieved? And how much damage will have been done to the credibility and viability of achieving peace and the two-state solution, and to the credibility of U.S. leadership of efforts to achieve them?
We further call on the Obama Administration to ensure that a new ceasefire is bolstered by (1) arrangements that prevent Hamas from re-arming and rebuilding its capacity to attack Israel, (2) an end to Israel's civilian blockade of Gaza, and (3) the launching of a political process that can at long last address the real issues at stake in this conflict. We also call on Egyptian President Morsi to take immediate steps to close smuggling tunnels and interdict the flow of weapons from Egypt into Gaza.
As we have warned repeatedly in the past, a ceasefire cannot be an end in itself, or it will only become an intermission between rounds of violence. A ceasefire, rather, is a mechanism to halt violence and suffering in the immediate term, creating the space for a process to take root that can deal with the underlying causes of conflict. Only in this way can the re-emergence of violence in the longer term be prevented. The 2009 ceasefire failed utterly in this regard. It left in place the Gaza blockade, leaving innocent civilians in Gaza living with Israeli-imposed collective punishment affecting virtually every aspect of their lives. It likewise failed to establish new arrangements to effectively interdict weapons smuggling into Gaza. As a result, that ceasefire was neither effective in ending rocket fire or in preventing Hamas from re-building and, indeed, strengthening its capacity to threaten Israel.
Time for a New Approach
Fundamentally, the current paroxysm of violence, like the one in 2008-2009, is symptomatic of failed policies, irresponsible actions, and a lack of strategic thinking on all sides. What has been true for 45 years remains true today: the fate of Gaza and the West Bank will not be determined either by Israeli military action or by terrorism.
After all this time, it should be clear to everyone that violence will not achieve Hamas' goals. Rockets can sow fear and suffering inside Israel, but they won't destroy Israel, won't buy Hamas international legitimacy, and can't force Israel to end the occupation or even lift the Gaza blockade. Indeed, Hamas' current actions are rallying Israelis from across the political spectrum in support of the Israeli government and its policies - even many Israelis who are deeply supportive of peace and oppose the Gaza blockade and settlements.
Likewise, Israel's military offensive against Gaza may, once again, achieve short-term tactical gains in terms of decreasing Hamas' military capacity and restoring Israel's deterrent in the immediate term. However, once again, it cannot destroy Hamas, won't stop rockets from falling in the future, and will, by killing and injuring many civilians and destroying civilian infrastructure, build even greater hatred of Israel among Gazans and stoke anti-Israel sentiment around the world. Similarly, the Israeli and international policy of trying to pressure Hamas by squeezing the people of Gaza has failed to oust the party from power or stop rocket fire from Gaza into Israel. Rather, it has created a situation in Gaza that has fed harsh criticism of Israel throughout the world and has been seen by many as a legitimate basis for Hamas attacks.
It is time to break this tragic cycle and adopt a pragmatic approach. Such an approach begins with support for strategic, self-interested engagement between Israel and Hamas, either through direct contacts or via third parties, including President Abbas. It should be recalled that it was not the 2008-2009 Gaza War that freed Gilad Shalit, but rather negotiations with Hamas in 2011 that did so. Likewise, any realistic, durable resolution to this crisis will require Israel and Hamas to engage, directly or indirectly, to achieve a ceasefire and to ensure that it is sustainable.
Such an approach must also recognize that a ceasefire is not an alternative to a diplomatic process that deals with the core issues of the Israeli-Palestinian conflict - a conflict that, at its heart, is a political one. In the absence of a credible effort to reach a long-term solution that meets the needs and aspirations of both sides, extremists will inevitably draw popular support and will invariably resort, once again, to violence. This applies equally to efforts to resolve intra-Palestinian political competition.
As a result, such an approach must recognize the imperative of establishing Palestinian unity. The U.S., Israel, and the international community, including Arab states, must be prepared now to both press for and support its achievement. While we would prefer to see more moderate Palestinian political forces in power in Gaza, it is the Palestinians - not Israel or the international community - who choose their leaders. If the U.S., Israel, and the international community are truly interested in seeing moderates in power, the best approach is not to punish the entire civilian population of Gaza until they support forces that we find more palatable than Hamas, nor is it to sit by while the Israeli government treats pro-peace West Bank moderates like President Abbas and Prime Minister Fayyad like enemies to be delegitimized or defeated. Rather, the only effective approach will be to empower Palestinian moderates and restore their credibility through a re-energized, credible peace effort that delivers real dividends to the Palestinian people and re-accredits the notion that negotiations can and will deliver self-determination and statehood in the immediate future.
Both Israel and Hamas have an interest in stopping the escalation and establishing a ceasefire, but neither side wants to be seen as being the first to blink. The international community, led by the U.S., must provide the leadership for both sides to step back from the brink, sooner rather than later, and to launch a political process that will prevent another round of Gaza-Israel violence in the future.

---------------------------------------------------------
APN Resource Page on the Gaza Crisis
---------------------------------------------------------