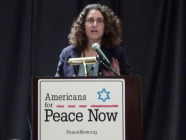 APN congratulated J Street this week for its successful First National Conference.
APN was a participating organization for the conference and presented a session:
"West Bank Settlements: Obstacles on the Road to Peace - A View From the Ground and From the Diplomatic Arena"


The attendance was standing-room-only to hear the panel which included Hagit Ofran, Peace Now Settlement Watch Director (pictured).
Participating panelists included:
Akiva Eldar, Chief Political Columnist and Editorial Writer, Ha'aretz
Scott Lasensky, Senior Research Associate, Center for Conflict Analysis and Prevention, United States Institute of Peace
Hagit Ofran, Director, Settlement Watch, A Project of Peace Now

The program was chaired by
Debra DeLee
, APN President and CEO and Moderated by
Ori Nir
, APN Spokesman.
Click below to listen to an audio recording of the panel:
Listen to the audio
To view Hagit Ofran's Power Point presentation,
click here
. To view Akiva Eldar's Power Point presentation,
click here
. (If you have trouble opening these files, your may want to download Microsoft's
Power Point Viewer
.)
Lara Friedman
, APN Director of Policy and Government Relations, was a panelist for
"What Next? Analysis and Advice for the President from Washing Insiders."
Click here to watch a video of this panel discussion.
Click here to read the press release APN put out on the occasion of the conference.