Wednesday, December 15, 2010, Los Angeles

with special guest from Washington, D.C.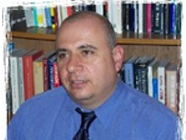 Ori NirAmericans for Peace Now Spokesman
Making his first visit to SoCal with APN
Campagnola Trattoria Restaurant1553 Westwood Blvd., Los AngelesAdvanced Reservation Needed:323-934-3480; apnwest@peacenow.org; Online
(indicate "Ori Nir Dinner" in the comments box)
-----------------------------------------------------


Ori Nir
was born and raised in Jerusalem. Educated at Hebrew University and UC Berkeley, Nir had a 24-year career in journalism, mainly focused on the Arab-Israeli conflict.
Ori held several posts with Haaretz Daily, Israel's leading newspaper, covering Palestinian Affairs, Israel's Arab minority, and as Washington and West Coast correspondent. He was also Washington correspondent of the Forward, America's largest and most influential independent national Jewish weekly newspaper, focusing on America's Mideast policy.
Ori has made appearances on PBS's Newshour, ABC's Nightline, and on numerous other U.S. networks and international TV outlets. He is a frequent radio interviewee and publishes opinion articles and analyses in major American newspapers, which have included the New York Times, the Los Angeles Times, the San Francisco Chronicle, Newsday, the Baltimore Sun.