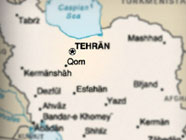 Below is the message sent May 14, 2012 to House staffers expressing APN's opposition to H. Res. 568.

Tomorrow, the House is scheduled to bring H. Res. 568, dealing with Iran, to the floor under suspension of the rules.

Americans for Peace Now (APN) urges members of Congress to vote NO or PRESENT on this resolution.

Supporters of H. Res. 568 suggest that this resolution is simply an articulation of tough positions to address the threat of Iran obtaining nuclear weapons, consistent with current U.S. policy. The text of H. Res. 568 tells a different story: its explicit goals are to lower the bar for war, to tie the President's hands in negotiations, and to effectively take all options, except the military option, off the table.
It appears to be no coincidence that H. Res. 568 is being brought to a vote now, just as a new round of Iran diplomacy is set to take place on May 23. This resolution was introduced in March during the AIPAC policy conference and has been a centerpiece of AIPAC lobbying since then. During these three months, the House has refrained from holding a single hearing or markup dealing with this resolution - a resolution that could have a profound impact on U.S. national security and the possibility of war. Now, it is being brought to a vote without House members ever having been given the chance to debate its contents, hear expert testimony, or offer amendments - including, for example, an amendment to make clear that H. Res. 568 is not an authorization of use of force.
There is no question that a nuclear-armed Iran would pose a serious threat to Israel and U.S. national security interests. Addressing this threat requires a sober, rational approach, not the ill-considered adoption of dangerously reckless legislation like H. Res. 568.
A summary of the specific flaws in H. Res. 568 (along with its Senate companion, S. Res. 380), as well as suggested ways these flaws could be fixed, is available
here
. If you have any questions about this resolution, or any other issue related to the quest for peace and security for Israel and the Middle East, please don't hesitate to contact me.