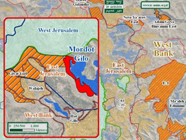 Special analysis from Lara Friedman (Americans for Peace Now) and Danny Seidemann (Ir Amim).

Yesterday Special Envoy Mitchell met with Israeli chief negotiator Yitzhak Molcho in London.
One topic discussed, apparently, was a new Israeli plan (number 13157) to expand the Jerusalem settlement of Gilo. The plan was on the agenda of the Jerusalem Regional Planning Committee today (Tues); barring outside intervention, the Committee was expected to approve the deposit of the plan for public review - a significant step toward its implementation.
Within a few hours of the end of the London meeting, the Gilo plan exploded as the top story/above-the-fold/giant headline on the front
page of Yediot Ahronot - Israel's largest circulation daily. The
headline in the Hebrew print edition read: "US: Don't Build in Gilo
Neighborhood; Astonishment in Israel from a New American Demand."
This is a
crisis
engineered by Israeli Prime Minister Benjamin Netanyahu. A crisis intended to create a head-on
collision
with the Obama Administration over Jerusalem. The Obama Administration
had no choice but to intervene on this plan. And while Bibi had a
number of "conventional" options for dealing with the issue, he chose
to go nuclear by making this issue - and his defiance of US concerns -
a top story. In doing so, he has undermined the prospects for the very
negotiations he claims he wants.
First, some background is in order, because the plan is being spun in
the Israeli press as something simple and non-controversial -
construction in one of the oldest Israelis settlements in East
Jerusalem, one that many Israelis forget is technically a settlement at
all.
This is, of course, just spin. The plan, if implemented, will allow
the construction of 844 units, and these units won't be inside the
existing footprint of the settlement. Rather, they will be on the
settlement's southwestern flank, expanding Gilo in the direction of the
Palestinian village of Wallajeh (a village in which a large number of
the homes are fighting Israeli demolition orders). This new Gilo plan
clearly dovetails with another plan to build a new settlement, called
Givat Yael, which would straddle the Jerusalem border and significantly
extend Israeli Jerusalem to the south, further sealing the city off
from the Bethlehem area and the West Bank (and connecting it to the
Etzion settlement bloc). That plan, it was
reported
yesterday, also
appears to be suddenly gaining steam. (for a map showing both the Gilo plan and Givat Yael, click
here
.)
The Gilo plan is thus extremely provocative on several levels. It
represents a clear and public statement from the Netanyahu government
that it is neither "freezing" nor acting with "restraint" in East
Jerusalem. It compels the Palestinians to respond, just as it compels
other regional actors to respond. Finally, it has important strategic
implications, since the plan, implemented, would impact on border
options for Jerusalem under a future peace agreement.
Today's crisis was by no means inevitable. Nobody (except for those of
us who obsessively follow Jerusalem at its most minute level) had any
idea this Gilo plan was on the agenda for today. This means that Bibi
could easily have responded positively to US concerns and quietly
quashed or delayed the project, without any political cost.
Alternatively, he could have offered another (deceptively) constructive
course, like allowing it to be deposited for public review but
promising to find other ways to hold it up later. Or he could simply
have refused to intervene, but kept quiet about it - letting today's
technical approval process run it course and only react publicly, after
the fact.
Bibi had a number of conventional options; he chose to go nuclear.
If this feels familiar, it should. This is basically what happened
earlier this year with the /entries/wp263 (link has expired) Shepherds Hotel settlement in Sheikh
Jarrah. The plan was on the agenda, Washington weighed in firmly but
quietly, hoping for firm but quiet action by Netanyahu - and instead
they got a story leaked to the Israeli media (in fact, to the same
journalist who broke today's Gilo story), turning it into an
opportunity for Netanyahu to burnish his Jerusalem credentials, at the
expense of the prospects for peace.
Or for those who have a longer memory, this might remind them of Har
Homa. The US had strongly and consistently opposed construction of
this settlement (located between Jerusalem and Bethlehem), but that
didn't stop Bibi from using it twice to "balance" pro-peace moves -
first in
1997
(after the signing the Hebron Agreement), and again in
1998
(immediately after his cabinet endorsed the Wye River
Memorandum). Today Har Homa is home to around 10,000 Israelis and
still expanding.
This time around, there is no Hebron Agreement or Wye Memorandum, but
there is the much-discussed settlement "moratorium" that one might have
expected to be announced any day now. A moratorium that was going to
be a hard sell for the Obama Administration under the best of
circumstances, given the dominant narrative of "you promised a full
freeze and you failed to deliver." Now, with Bibi going nuclear on the
Jerusalem issue, it is hard to see how any settlement "moratorium" - no
matter what its details- can credibly be used to promote negotiations.
The Gilo plan did indeed come up in today's meeting of the Jerusalem
Regional Planning Board which, no surprise,
decided
to approve the
deposit of Plan 13157 for public review. This does not mean
implementation is inevitable - by no means - but it does mean that it
now requires the investment of serious political capital to stop.
So what happens next? It is imperative that Netanyahu be convinced -
by Israelis, by Washington, by Jewish voices worldwide, by the
international community - to swear off nuclear tactics in Jerusalem.
And not only with respect to the Gilo project, but with respect to all
of the other projects and plans that are in the drawers of
troublemakers in the various ministries and municipal offices -
including those under the authority of Jerusalem mayor Nir Barkat, who
seems almost childishly
eager
to fan the flames of conflict in the
city.
Plans
like E1 and the Old City Historic Basin project.
He must do so for the sake of Israel's own best interests.
Let no one be confused: no genuine Israeli interest is served by any
of these projects, unless one perceives the Israeli interest as the
prevention of credible negotiations with the Palestinians that could
lead to a two-state solution. Or, to put it more crassly, the only interest served by these projects
is the prevention of the two-state solution and the transformation of
the Israeli-Arab conflict from a difficult but resolvable conflict over
territory into an irresolvable zero-sum religious war.