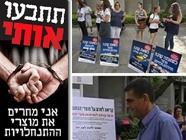 Monday will go down in history as the day that the Israeli Knesset voted to suspend democracy in Israel. Monday was the day when the Knesset effectively outlawed peaceful protest against Israeli government policies, including settlements.
The passage of this law is a travesty of democracy.
Pictured: Former Knesset Member Mossi Raz signing Peace Now's petition. Poster on left says "Sue Me, I'm Boycotting Settlement Products".
--------------------------------------

I am proud that our Israeli friends and colleagues in the Israeli Peace Now movement are leading a national effort in Israel to challenge this disgraceful new law. As proud Israelis, they know what this law means for their country and their futures. They know that it is not just their own ability to fight for peace, but also the very soul of Israel, that it is at stake.
Let's be very clear here: fundamentally this is not about boycotts or even, really, about settlements. It is about trying to stifle dissent, smother activism, and suppress freedom of expression in Israel.
And this flagrant attack on the basic democratic value of freedom of expression is not an isolated case. The boycott law is just the latest in a series of anti-democratic initiatives in the Knesset - some of them already enacted - that seek to suffocate the Israeli civil society organizations that are most critical to preserving Israel's democracy - groups working to promote peace, human rights, and civil rights within Israel.
All of us who love Israel - who love the people of Israel and who are deeply committed to ensuring a future for them in the Jewish and democratic state of Israel - cannot stay silent.
We will not stay silent. We will not be intimidated. We will not back down. Israel and the Israeli people are worth fighting for.