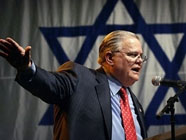 Last month, members of the largest pro-Israel lobbying organization in the country gathered in Washington, DC. And no, I'm not talking about AIPAC. 4,000 evangelical Christians participated in Christians United for Israel's (CUFI) 4th annual Washington Summit on July 20-22, hearing from speakers such as Sen. Joseph Lieberman (I-CT) and Congressman Eric Cantor (R-VA), and spending a day lobbying on Capitol Hill.
CUFI is known for using the Christian Scriptures to anchor its extreme positions on Israel, including an unabashed endorsement of Israel's West Bank settlement enterprise, born out of the belief that God gave all of the Land of Israel to the Jews.
Indeed, at last month's conference, founder John Hagee placed CUFI in direct conflict with the Obama administration's policy on settlements when he told Israeli Prime Minister Binyamin Netanyahu via video conference that it is "Israel's sovereign right to grow and develop the settlements of Israel as you see fit and not yield to the pressure of the United States government."
In the three and a half years since it was created, CUFI has attracted huge crowds and generated immense publicity, creating the illusion that all evangelical Christians support CUFI's extreme views on Israel.
This is simply not true. In recent years, an increasing number of evangelicals have sided with mainline Protestant, Catholic and Orthodox groups in support of a two-state solution to the Palestinian-Israeli conflict, and have begun to speak up and clarify that there are pro-peace evangelicals out there as well.
· In July 2007, an open letter to President Bush from 34 evangelical leaders was published in the New York Times. The letter supported Bush's call for a two-state solution, seeking to correct the prevailing belief that all American evangelicals opposed a two-state solution. The letter explicitly stated that there are "large numbers of evangelicals throughout the U.S. who support justice for both Israelis and Palestinians."
· The signatories of the July 2007 letter continued to make their presence felt, following up with an "Evangelical Statement on Israel/Palestine," released at the time of the November 2007 Annapolis Conference.
· That statement was followed by a December 2008 open letter to President-Elect Obama, signed by evangelical, mainline Protestant, Catholic and Orthodox leaders and circulated by Churches for Middle East Peace (CMEP). The letter encouraged Obama to "make achievement of Israeli-Palestinian peace an immediate priority" during his first year in office.
· The latest action taken by these pro-peace Christian leaders was a letter to President Obama following his June 4, 2009 speech in Cairo, also circulated by CMEP. While prior statements reflected the signers' support for the general principle of a two-state solution and an emphasis on the Biblical mandate to achieve justice for all parties, this latest statement was unique in its enumeration of specific final-status issues that should be addressed through negotiations. Listed chiefly among them was an acknowledgement that "continued settlement growth and expansion are rapidly diminishing any possibility for the creation of a viable Palestinian state."
So how are these pro-peace evangelicals responding to CUFI's July conference and to Hagee's comments on settlements in particular? Curious, I looked around the evangelical Christian blogosphere for reactions.
Much to my surprise - and dismay - I found almost nothing. Prominent evangelical voices, who have previously spoken up on this issue, were now silent. Jim Wallis' God's Politics blog made no mention of the conference. Brian McLaren's blog had nothing. Relevant Magazine's blog: nothing. Beliefnet's Progressive Revival blog: nada, zilch, zero. There has also been a dearth of responses from evangelical leaders in mainstream news outlets. Tony Campolo? Ron Sider? Bill Hybels? Nowhere to be found. The best I could come up with was a benign recounting of the conference on Christianity Today's politics blog.
Commentators have correctly pointed out that CUFI's stance on settlements is much more hawkish than that of nearly any American Jewish organization. How could pro-peace evangelical leaders, who less than two months previously came out in opposition to Israeli settlement growth, be ignoring this? As a pro-peace evangelical myself, their silence deeply concerned me.
The New York Jewish Week's James Besser asks: "If CUFI is, indeed, the largest pro-Israel group in the nation in terms of membership, and if it is winning growing acceptance among the Jewish pro-Israel leadership, how might that impact a broader pro-Israel movement that has generally regarded the issue of settlements and settlers as too radioactive to touch?"
Good question. At this critical time, when the Obama administration is finally calling for a firm settlement freeze, could CUFI's open support for settlement growth embolden other pro-Israel organizations to intensify their support for this disastrous enterprise? And where is the countervailing voice of the other evangelicals, the ones who call for peace and two states?
I strongly believe that one of the reasons CUFI has gained so much support in such a short time is because there are precious few evangelicals speaking out for the other side and articulating an orthodox, biblically-based vision for peace in the Middle East. Unless pro-peace evangelical leaders explain why they think the best way to honor Israel is to secure its peace, American evangelicals will have no reason to question CUFI's vision, and no cause to question its presumption to speak for all American evangelicals on Israel.
This is a rare moment of hope for Middle East peace, and it is time for believers to take a stand.