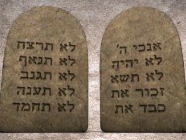 The holiday of Shavuot, which begins this Saturday night, celebrates the giving of the Torah at Mount Sinai.
There are many traditions associated with Shavuot, including staying up throughout the night to study but among the most beloved is the eating of dairy meals (and cheesecake for we Americans!). This tradition is sometimes explained as being derived from the fact that the gift of Torah and its teachings are a guide towards justice and compassion. Killing, even killing for meat, which is permitted under some circumstances, is incompatible with these ways of
compassion. On this holiday of Shavuot,let us tap into our compassion for others, and build the world that was always intended for us -- a world of justice and compassion.