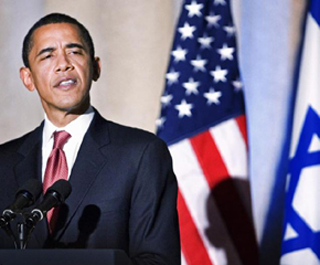 President Barack Obama's resolve to renew Israeli-Palestinian peace talks is being tested. I need your help to show the president that Americans want him to act to put the peace process back on track.
In the past week, Israel moved forward on several large-scale settlement schemes, including a plan that would dramatically increase the foothold of one settlement in East Jerusalem. After months of refraining from these types of actions in Jerusalem, Prime Minister Benjamin Netanyahu is opening up the floodgates.
As Peace Now's Hagit Ofran told the New York Times, the move is a "real provocation."





President Obama is being tested. He came into office determined to make progress towards peace. Now, in the wake of the mid-term elections, it seems some are trying to see how much they can get away with.

President Obama needs to show that he means business, and soon. A demonstration of broad-based public support can help embolden him. That's why we need you to take action:

Send letters to media outlets near you.

Ongoing settlement construction is a danger to peace and to Israel. Settlements constitute points of friction between Israelis and Palestinians. They drain Israel's financial resources. And they give Palestinians a reason to be skeptical about Israel's commitment to a two-state solution.

Settlement construction also reinforces a dangerous status quo. That status quo means occupation. And continued occupation means that it is only a matter of time until violence resumes, taking the lives of innocent Israelis and Palestinians.

At the same time, this is about more than settlements. This is about American credibility, and the whole world is watching.

When President Obama took office, he articulated a clear commitment to resolve the Israeli-Palestinian conflict. Regrettably, his strategy of trying to convince and cajole the parties into cooperating has proved inadequate. As a result, today America has a credibility problem: Each of the stakeholders - Israel, the Palestinians, key Arab leaders - doubts the president's ability to get the other parties to deliver.

If President Obama fails to address the latest provocations, it will become increasingly difficult for America to get the players to take any steps toward peace.

Now is the time for President Obama to act. He promised to hold all parties accountable for their actions. The time has come for him to follow through on that promise.

We can't afford the White House to be sheepish. Show them that Americans who care about Israel want to see strong American leadership.

Send letters to the editors of your local press now

.

By the way, past APN campaigns targeting the press have resulted in more than 100

letters published

in media outlets nationwide. When you send your letters to the media today, you will help us raise a collective voice for peace.