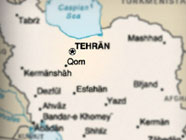 Congress this past week made an effort to send a tough message on Iran - both to Iran and to the White House - as the Obama administration and its allies prepare for the May 23rd talks with Iran. APN expressed concern about some of this congressional action, but also welcomed some of this week's developments on Capitol Hill regarding Iran.
For APN's full report on this week's fascinating developments on Capitol Hill, read the latest edition of Lara Friedman's weekly
Legislative Roundup
. Lara Friedman is APN's Director of Policy and Government Relations.