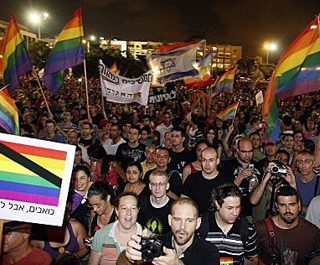 Israel's Peace Now movement and Americans for Peace Now express solidarity with the gay and lesbian community in Israel, following the attack on the gay youth center in Tel Aviv, and strongly reject the intensifying violence and intolerance within Israeli society.
On Saturday, Peace Now activists will join tens of thousands of Israelis at a solidarity and memorial rally at Tel Aviv's Rabin Square. They will hand out&nbsp stickers that combine the Rainbow flag with Peace Now's logo.
Peace Now's struggle "is not only about Israel-Palestine. It's also inside the Israeli society. There is a clear connection between all the violent incidents." said Yariv Oppenheimer, Peace Now's secretary general, in an interview for an APN podcast (to be posted soon). "The conflict with the Palestinians made the Israeli society very violent and very nationalistic," Oppenheimer pointed out.
Oppenheimer's view resonates in Israel. Earlier this week, Haaretz's leading columnist, Yoel Marcus wrote: "The bloodbath in a gay-lesbian club, shocking and upsetting though it was, is merely a part, or perhaps a result, of the general violence into which this country is descending." He continued: "The ready availability of weapons in a country where the entire nation is in the army has turned us into a violent society. It was truly unbelievable to see a soldier shooting a bound Palestinian in the leg while his commander held the man down. Or to see border policemen freely abusing residents of the territories. Such mutations have left us shameless and utterly without inhibition."
APN stands with Peace Now and with all Israelis who support tolerance, justice and peace.