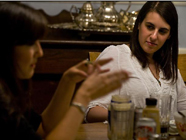 On the front page of the Style section in yesterday's Washington Post is a
story about a remarkable internship program
.
This was no typical Washington internship. APN hosted a Palestinian student, while the
American Task Force on Palestine
(ATFP) hosted an Israeli student. The two worked together on joint projects, lived together, and became close friends.
(Pictured: Mariam Ashour, left, from Palestine who interned at APN, and Noam Rabinovich from Israel who interned at ATFP)
The initiative was a collaboration between APN, ATFP and
New Story Leadership
, an organization that has in the past brought together young Protestant and Catholic students from Ireland.
The friendships forged this summer -- and the dialogues that took place -- are a strong demonstration of something that we at APN strongly believe in: Jews and Arabs don't have to be enemies.
APN's partnership with ATFP has grown over a period of years. Not only do we sponsor joint internship programs, but we dispatch Israeli and Arab speakers to campuses and religious congregations. And we co-host briefings for Capitol Hill staff and other important Washington audiences.
APN's partnerships with groups like ATFP show Washington policy makers that pro-Israel and pro-Palestine are not mutually exclusive agendas. To the contrary: Promoting peace is in the interest of both Israelis and Palestinians.
APN believes in investing in the future. That's why we do programming on college campuses. And that's why we hold seminars for Washington-based interns every summer.
We're excited that the Washington Post covered this program so beautifully.