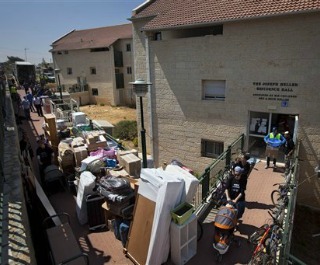 The evacuation of the five illegally-built houses in the West Bank settlement of Beit El was completed without any confrontations between the settlers and the police.
The 3,000 police officers who just a week ago spent an entire day in the Jordan Valley, practicing the evacuation of a violent crowd, did not stretch a muscle.
.
In fact, ironically, the only violent altercation at Beit El's Givat Ha-Ulpana neighborhood was between young radical settlers, known as the "Hills Youth," and the Ulpana residents who agreed to quietly evacuate. The young extremists accused them of selling out and tried to barricade in the evacuated apartment buildings. It was the apartment owners who forced the youngsters out as they moved to temporary housing in Beit El.
The government of Israel will now have to remove or demolish the structures themselves, as ordered by Israel's Supreme Court. It is not clear yet how the government will do that and where the buildings would be moved to. The government must move the five apartment buildings by July 1st, but it has already
asked the Court for an eighteen-week extension
. The Court is likely to grant that extension.
The Givat Ha-Ulpana saga is not over yet. But several lessons already stand out in relation to the agreement reached between the government and the settlers. A lot has been said and written about the scandalous cost to the people of Israel of the government's buying the settlers' consent to leave their homes peacefully. Obviously, that speaks volumes about the political power of the settlers and their ability to use the threat of violence to further their goals.
On the other hand, the deal that was struck and the peaceful evacuation that followed show that this can be done: that Supreme Court orders can be carried out; that settlers can be moved from their homes without all hell breaking loose; that the Israel public cares very little about the troubles and tribulations of settlers who bought houses that were illegally constructed on land owned by Palestinians.
Settler activists understand that, which is why one should expect a further increase in violent "Price Tag" attacks by extremist young settlers and their sympathizers in the coming weeks