Click here to listen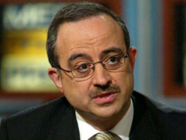 While most experts and pundits advise an incremental approach to an separate Israeli-Palestinian peace, Marwan Muasher, Jordan's former foreign minister and ambassador to Washington and Israel supports a much more ambitious regional approach, which harnesses the Arab League's Peace Initiative to the Israeli-Palestinian peace efforts.
Muasher, who now directs the Carnegie Endowment's Middle East research program, this week published a
paper
that advocates leveraging the power of regional Arab diplomacy to make Israeli-Palestinian peace efforts succeed. As one of the architects of the Arab Peace Initiative, Muasher says the plan could offer Israel not only normalized relations with the entire Arab world, but extremely valuable security guarantees from countries such as Saudi Arabia and Syria.
I spoke with Dr. Muasher today about his approach.
Click here to listen to our conversation