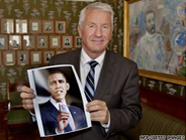 Washington, D.C - Americans for Peace Now (APN) today congratulated President Barack Obama for winning the Nobel Peace Prize and urged him to keep pushing for Middle East peace, viewing the prize as an international expression of confidence in his policy of engagement, negotiations and multilateralism, particularly in the Middle East.
Picture: Chairman of the Nobel Peace Prize committee Thorbjorn Jagland holds a picture of President Obama.
"Only nine months into his presidency, the President is recognized internationally as a visionary peacemaker. Nobody expected these nine months to give birth to Middle East peace, but Obama's resolute push for an Israeli-Palestinian two-state solution is the best hope in many years for Israelis and Palestinians who so much yearn for, and so much deserve, lasting peace with security," said APN President and CEO Debra DeLee.

"We very much hope that the president and his administration will view this prize as an international deposit of sorts, an expression of the international community's desire for Middle East peace, an articulation of confidence in Obama's policy of diplomacy and negotiations, and an endorsement of his historic efforts to engage with Iran. Hopefully, this global expression of confidence in Obama's approach will reinforce his administration's efforts to bring peace to Israel and her neighbors. Hopefully, it will also urge others - Israelis, Palestinians, and all stakeholders in this conflict - to take advantage of this president's can-do attitude toward Mideast peace," DeLee said.

Saluting the Prize Committee for its decision, DeLee added: "This gesture is not just a recognition of Obama's leadership. It is also an important signal to the parties to the conflict to immediately launch peace negotiations, in earnest, and bring them to a successful fruition."

APN is America's leading organization advocating for peace for Israel.

For more information, please contact Ori Nir at 202-408-9898 or at onir@peacenow.org.