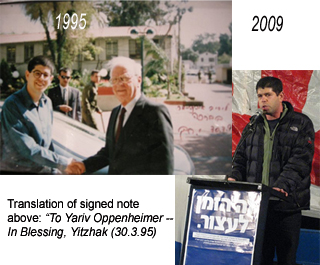 Join us for a program in Los Angeles with a very special guest from Israel
Yariv Oppenheimer
General Director of Shalom Achshav (Peace Now, Israel)
Tuesday, November 3, 2009, 7:30 P.M.
Westside Jewish Community Center
5870 W. Olympic Blvd., Los Angeles (A few blocks east of Fairfax Ave; park on street or in back lot accessible via little San Vicente Blvd.)

RSVP to apnwest@peacenow.org or (323) 934-3480

$10 Suggested Donation At The Door (No one will be turned away)
On November 4th, 1995, Yariv Oppenheimer stood among hundreds of thousands at a peace rally coordinated by Peace Now in what was then called Kings of Israel Square in Tel Aviv. Eighteen years old and recently inducted in the Israeli Army, Yariv watched as Prime Minister Yitzhak Rabin climbed the stairs and gave a stirring speech for peace. Without ever imagining what would happen next, Yariv left for an event with his army unit and in the car heard the shocking news that Yitzhak Rabin had been killed at gunpoint by someone bent on preventing his efforts for peace to succeed.
Yariv says "that night made me more committed and eager to continue my activity and to fight for peace." Fourteen years later, he leads the Peace Now movement, coordinator of that fateful 1995 rally.
Yariv Oppenheimer, born in Tel Aviv in 1976, is the General Director and Spokesperson of Shalom Achshav (Peace Now, Israel), the largest grassroots movement in Israeli history. He is a leading political figure and activist who is regularly cited in the Israeli and world press, and is a frequent interviewee on radio and television broadcasts. Oppenheimer was Commander of New Recruits in the Israeli Defense Forces (1995-98), Youth Department Director of the Israeli Labour Party (1998-2002), and has a Law & Public Policy Degree from the College of Interdisciplinary Center of Learning in Herzliya, Israel.
Americans for Peace Now is pleased to be presenting this program with co-sponsors Ameinu, J Street, Meretz USA, New Israel Fund, and Workmen's Circle