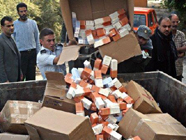 Israeli Prime Minister Benjamin Netanyahu complained Monday that a Palestinian boycott of goods produced in West Bank settlements shows a lack of interest in peace.
It's a spurious argument,...
(Picture: Palestinians dispose of settlement goods)
...especially considering that Palestinian President Mahmoud Abbas has repeatedly spoken out against boycotting Israel.
Peace Now's Yariv Oppenheimer responded to Netanyahu's overreach with an article published in the Israeli daily Ma'ariv.
Click
here
to read an English translation of Yariv's article.
We know where we stand. Boycotts that target the entire Israeli public are misguided and counterproductive. But it is not illegitimate for the Palestinians to launch a campaign focused on settlements.
The questions raised in this debate are broader than the new Palestinian campaign. Across our country student groups and political activists are hotly debating the proper place for boycotts, sanctions, and divestment efforts vis-a-vis Israeli policies.
You and I know that some issues are too complex for a one-size-fits-all answer. That's why APN has developed some guidance for which tactics can help to bring peace to Israel.
Click
here
to read APN's policy statement.
What do you think? Weigh in on
APN's Facebook page
. (If you haven't already joined APN on Facebook you'll need to "like" APN and then go to our wall in order to comment.)
Sincerely,
Noam Shelef
Director of Strategic Communications