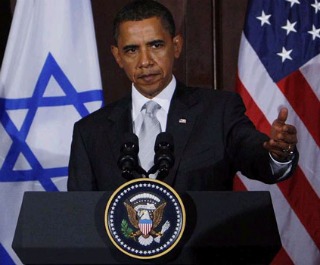 By Lara Friedman
The Obama administration has offered Israel a substantial
package of incentives
in exchange (it hopes) for the re-imposition of a (partial) settlement moratorium for 90 days that will (it hopes) permit the re-starting of direct Israeli-Palestinian negotiations that, in turn (it hopes), will produce sufficient progress to allow negotiations to continue even after a moratorium lapses. (continues)
------------------------------------------------------------------------------------------------------------------------------
Add'l Recommended Reading
Peace: The Jewish Priority - "Clear Jewish Priorities"
by Rabbi Michael Melchior, intro from APN's Debra DeLee
------------------------------------------------------------------------------------------------------------------------------
As everyone knows, there is enormous skepticism and concern about this strategy coming from across the political spectrum (
here
,
here
,
here
,
here
,
here
,
here
, and
here
). There is also growing discussion of what "Plan B" should be if/when this gambit fails (
here
,
here
, and
here
). And there are fears that the groundwork is being laid in some quarters to put the responsibility for the anticipated failure of this effort entirely on the Palestinians (see
this tweet
from AIPAC).
All are eminently rational reactions. The pitfalls of this current plan are myriad. And the Obama administration's Middle East peace
record thus far
-- two years of well-intentioned but ineffectual cajoling of the parties with no result -- does not inspire confidence. But if that is all we have to say, then those of us who are committed to peace and security for Israel are falling down on the job.
The reality is that if the President puts the weight of his office behind his approach -- whether it is this clearly flawed 90-day plan or however he decides to proceed instead -- he can achieve results. The corollary is that all of us who are invested in achieving peace for Israel should be investing the bulk of our energies right now in pressing President Obama to follow through with determination in the Middle East -- rather than only criticizing and dismissing his efforts.
Whether in the context of this 90-day plan or some other US proposal, we should be exhorting President Obama to break the self-defeating patterns that have been established over the past two years of Middle East peace efforts. We should be urging him to recognize that, sadly but unsurprisingly, just getting the parties together to talk will never be enough. We should be telling him that the time has come, finally, to make clear that just as the US is prepared to offer incentives to bring the parties to the table, it is also prepared to impose consequences for foot-dragging or game-playing.
If this latest peace maneuver -- or any effort that may come after it -- has any chance of bearing anything but the bitterest of fruit, the Obama administration must decide that there will be a price for refusing to play ball. For the Palestinians, this means a clear message: we expect you to come to the negotiating table. For the Israelis, it means a clear message: we expect you to stop provocations in East Jerusalem. For both parties the expectation taken together is thus: each is expected to engage seriously on even the hardest issues -- making proposals and counter-proposals -- and achieve concrete results.
The Obama administration must also decide that it expects real results from the parties and that there will be real consequences if this expectation is not met. For the Israelis, this means conveying the message: we won't tolerate efforts to fritter away negotiations -- whether they last for 90 days or for 90 minutes -- by changing the subject or raising new issues. For the Palestinians: we won't tolerate constant threats to walk away from the talks. And for both parties: we expect negotiations to achieve real, measurable, progress toward a final agreement.
As Aaron David Miller
wrote
, if President Obama is serious about achieving anything with this new gambit -- or with any Middle East peace effort -- he'd better be ready to use both vinegar and honey, and the parties have to be made to understand and believe this. Indeed, if anything positive is going to be accomplished by this 90-day plan -- or any US peace maneuver that may follow in its place -- President Obama is going to have to play hardball.
We have long been the most ardent watchdog -- and the leading critic -- of Israel's settlement policy in the West Bank and East Jerusalem. We share much of the concern and skepticism of the current Obama peace ploy. We recognize that there is every reason for smart people -- both inside and outside the Obama administration -- to be thinking now about a "Plan B." But let no one be deluded: the best "Plan B" in the world won't work if the Obama administration isn't ready to play to win. People who care about peace and security for Israel and the Middle East should be pushing him hard, now, to do so.
Lara Friedman is director of policy and government relations for Americans for Peace Now.