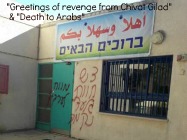 Neve Shalom ("Oasis of Peace"), a small community in which Jewish and Arab Israeli citizens choose to live together, was vandalized last night, apparently by settlers or settler-sympathizers. Graffiti saying "Death to the Arabs" was sprayed on Neve Shalom's bilingual school. Several cars were vandalized with hateful graffiti. The tires of fourteen cars were punctured.
The attack on the this community of peace, halfway between Jerusalem and Tel Aviv, was similar in nature to past so-called "Price Tag" attacks by extremist settlers and their sympathizers against Palestinians and Israeli peace activists such as Peace Now's Yariv Oppenheimer and Hagit Ofran.
This is not the first time that Israeli bi-national or a bilingual communities are attacked by Israeli hate-mongers. The Arabic-Hebrew bilingual school in Jerusalem was the target of a similar attack earlier this year.
We at Americans for Peace Now are outraged at such attacks. We are happy to see that members of these communities, striving to advance coexistence and mutual understanding between Jews and Arabs, are not fazed by this form of low-intensity terrorism. Friends of peace must redouble their efforts to achieve peace between Jews and Arabs, Israelis and Palestinians.