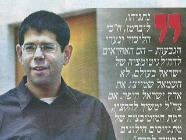 In recent days, Peace Now has been facing attacks from many corners. Peace Now's Settlement Watch director received death threats, and a bomb threat was called in at their Jerusalem office. They have also been targeted by an onslaught of anti-democratic bills in the Knesset. But Peace Now refuses to be silenced.
Yariv Oppenhiemer responds to the anti-democratic Knesset measures, saying "we are the real patriots."
In the face of death threats, Hagit Ofran says "she who believes does not fear."