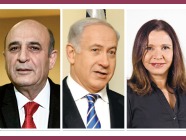 Last night's dramatic news caught everyone by surprise: following secret negotiations, the Kadima party has agreed to join Benjamin Netanyahu's government, establishing a "unity government." On its face, this breathtaking political development in Israel does not promise a breakthrough toward peace. But as it is with every major shakeup, the new alliance between Israel's largest parties also presents opportunities.
This new government grants Netanyahu the stability that he has long sought, whether through broadening his ruling coalition or through early elections, taking advantage of his good performance in the polls.
The big question is whether Netanyahu will capitalize on his new enormous coalition - 94 Knesset members - to lead, to pursue bold initiatives, to capitalize on his opportunity for exercising statesmanship; or if he will use it as a tool to maintain the status-quo.
With the establishment of this coalition, Netanyahu has a clear opportunity to reach a historic peace agreement with the Palestinians - knowing that he can count on Kadima and probably Labor to support him. In doing so, Netanyahu can guarantee his place in history as the leader who secured Israel's future as a Jewish state that is a true democracy. Will he do so?
Or, conversely, he has the opportunity to try to exploit his new partnership with Kadima, the Knesset's largest party, to further cement his diplomatic intransigence and even drag Israel into an adventurous military campaign against Iran. Will he do so, despite the views of the Obama administration and Israel's security chiefs, with potentially disastrous repercussions for both Israel and the United States?
To answer these questions, the starting point must be to understand why Netanyahu and Mofaz made this deal. The deal is not about peace or war. Indeed, it is not about policy, either domestic or foreign. For Mofaz, it is about ensuring his political survival. Kadima, once the leading actor on the Israeli political scene, has been dwarfed in the opposition, under Tzippi Livni's lackluster leadership, into a medium- sized party with less than a dozen Knesset members in recent polls. For Netanyahu, it is about political maneuvering. Netanyahu wants to survive his term, to eviscerate Kadima and other political rivals such as the charismatic Yair Lapid, and to secure a robust parliamentary majority to withstand domestic and international pressures . This was not a strategic move for either man; rather, for both it was a tactical move reflecting the extent to which, today, Israeli partisan politics overpowers policy.
Yes, the diplomatic process is one of ten points in the Netanyahu-Mofaz agreement (number eight). The agreement says that the unity government "will act to restart the political process and advance negotiations with the Palestinian Authority," but that is boilerplate language. The more substantial policy items in the agreement are commitments to legislate universal military conscription and changes to the Israeli political system. It is not a coincidence that these two items are also front and center in the policy agenda of Yair Lapid, viewed by some as the rising star of the Israeli political center.
Will Kadima's centrist platform influence Netanyahu to pursue peace? It is possible, but not likely. Here, again, answering this question requires an understanding of what this new coalition government actually looks like. It is not a classic national unity government, the kind of "two-headed monster" that we remember from the past. Shockingly, Kadima, the largest party in the Knesset with 28 MKs, joined the government as a junior partner - a reflection, it seems, of Mofaz's view that this move was about political survival. Kadima received only a single seat in the cabinet - Mofaz will be a minister without portfolio - and chairmanship of three Knesset committees. One political commentator said last night on Israel Radio that Kadima joined the government as a tail rather than as a second head. With right-wing forces dominating the scene, Kadima will have little chance of wagging this dog.
After all, the head of this government, Netanyahu, has in no way indicated that he actually wants a breakthrough on the peace track. This has been true since he came to power - had he wanted to, back in 2009 he could have formed a coalition with Labor and Kadima if his right-wing partners quit the coalition over a bold peace push. That pro-peace safety net is still there for Netanyahu, except that now Kadima is in the coalition together with an offshoot of the old Labor Party, the new Atzmaut Party headed by Ehud Barak.
Then, there is the opposition. Labor, with eight Knesset members, is now the Knesset's chief opposition party. Its leader, Shelly Yechimovitch, will probably be the leader of an opposition force comprising only 26 Members of Knesset - one of the smallest and weakest opposition factions in Israel's history. Knesset Chairman Reuven Rivlin, a veteran Likud parliamentarian who is strongly committed to the principles of democracy and the rule of law, on Tuesday warned that the lopsided Knesset, with almost 80% of its members in the coalition and a tiny counterbalance in the back rows of the house, might cause "the degeneration of the parliamentary system within weeks."
So where are the opportunities? Clearly, if Netanyahu does change his mind - whether under pressure from within Israel or from Washington - his maneuvering room and his ability to sell a peace deal to the public increases when he heads a national unity government. With 94 Knesset members in his coalition, Netanyahu would not be able to claim that he is held hostage by right-wing coalition partners, and therefore cannot be diplomatically flexible. As a result, the US and other members of the international community would be better placed to push Netanyahu to exercise such flexibility.
When President Obama took office, there was a sense in Washington that if any Israeli leader could credibly sell such a peace deal to skeptical Israelis, it is Netanyahu. Polls show that this is even more true today than it was three years ago. Netanyahu's government is likely to live its term. America's next elected president could seize the opportunity and work with Netanyahu to help him be remembered as the Israeli statesman who brought his people peace.
Please join us for the briefing call with Akiva Eldar,the chief political correspondent and editorial writer for Haaretz, Thursday at 2:00 PM Eastern Time to discuss these developments.

To join the call dial 1-213-342-3000 and enter passcode 332479