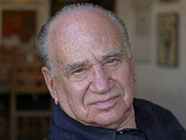 Arye ("
Lova
") Eliav, an icon of the Israeli peace movement, died yesterday in Tel Aviv at 88. He was one of Israel's most admired leaders, a visionary, a man of principles, who combined his passion for peace with a passion for volunteerism and education.

Eliav was born in Moscow in 1921 and came to Israel in 1924. After volunteering to serve in the British Army in World War II and serving in the Haganah and in the IDF before and during Israel's War of Independence, he served in a variety of senior government positions, became a leader of the Labor Party, and was elected several times to the Knesset on Labor's list.

In 1970, shortly after being appointed the Secretary General of Labor, Eliav told Time Magazine that Israel must find a solution to the Palestinian refugee problem. Then Prime Minsiter Golda Meir demanded that he deny the quotes, but he refused and continued to publicly speak against Israeli settlements in the Occupied Territories. His views distanced him from Meir and other Labor Party seniors and in 1971 he resigned from his position.

In a book he published a year later, Eliav warned that holding on to the Territories and ruling their Palestinian residents would become a calamity for the state of Israel. Following the publication of the book, he told supporters that Israelis should "give themselves hope that one day, under appropriate security conditions, when there is who to talk to, we will separate, and by separation I mean a national separation... We shall separate from a million Arabs."

Eliav's conviction that Israel must end its occupation of the West Bank and Gaza deepened following the 1973 Yom Kippur War. He publicly called for a territorial compromise for peace and advanced this message during the late 1970s and 1980s through the progressive "Ratz" "Sheli" and "Ya'ad" parties.

In 1988, Eliav received Israel's most prestigious award, the Israel Prize, for his life achievements as a leader and an educator.

Yehi Zichro Baruch. May his memory be blessed, and may he rest in peace.