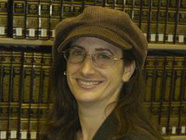 Americans for Peace Now is pleased to announce the hiring of Rabbi Alana Suskin as its new director of strategic communications.
Rabbi Suskin will join our team in Washington, DC on December 5th.
An experienced pulpit rabbi and a progressive political activist, Rabbi Suskin has for years leveraged Jewish values and ethics to advance causes of peace and justice.
"Alana will bring a broad range of experience and expertise to our organization. We are very excited to welcome her aboard," said Debra DeLee, APN's President and CEO.
Rabbi Suskin most recently served as the Managing Editor of Jewschool, a leading Jewish faith blog. Prior to going online, Alana was the Assistant Rabbi at Adas Israel [link: http://www.adasisrael.org/], Washington's largest Conservative synagogue. She currently serves as an officer of Rabbis for Human Rights. Rabbi Suskin was a founding fellow of Clal's project, Rabbis Without Borders. She is a contributor to several other blogs including Jewish Values Online, and has worked with and served on the boards of a variety of social justice organizations, including American Rights at Work and Jews United for Justice.
Rabbi Suskin has published articles in a variety of magazines, including Shma and Lilith. She also contributed to Rabbi Elliot Dorff's book The Unfolding Tradition, which discusses Halachic theories in the Conservative Movement.