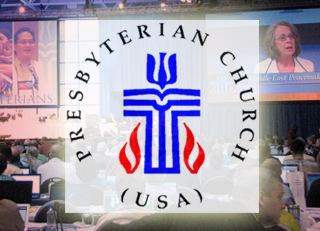 Washington, DC - Americans for Peace Now (APN) urges the plenary of the Presbyterian Church (USA) not to adopt the resolution approved yesterday by its Middle East and Peacemaking Issues Committee (Committee 15) to divest from companies, over Israel's use of their products in ways that allegedly violate Palestinian human rights.
Later this week, the plenary of PC (USA), is supposed to vote on a resolution adopted by its Committee 15 to divest from Caterpillar, Hewlett-Packard, and Motorola Solutions over Israel's use of the of these companies' products to violate the rights of Palestinians in the West Bank and the Gaza Strip.
APN's president and CEO Debra DeLee said: "We believe that divestment campaigns such as this are misguided and counterproductive. They use a blunt instrument to pressure global corporations to curtail their business with Israel because of objectionable Israeli government policies in the West Bank and the Gaza Strip."
"By targeting Israel rather than the occupation, this divestment campaign creates the impression that PC (USA) is making common cause with historically virulently anti-Israel organizations and individuals, who are often not interested in Israeli security concerns or Palestinian behavior but in Israel's destruction. Divestment campaigns such as this therefore raise very real and understandable worries about global anti-Semitism and the perception that the campaigns are not truly (or only) about Israeli policies but rather reflect a deep-seated hatred for and rejection of Israel."
"Their impact, characteristically, is not Israel changing its policies but rather changing the subject. Divestment initiatives like this divert attention from the problem - the occupation - and help advocates of the status-quo frame things in ways that serve their goals."
"Such campaigns, instead of making a distinction between Israel and its presence in the West Bank and Gaza, blur the Green line. A morally and rationally justified tactic would be to focus on the line that separates Israel from the West Bank, and, while buying goods made in Israel, to make a point of not purchasing products made in West Bank settlements."
For more about APN's position on boycotts and divestment click
here
: and
here
.