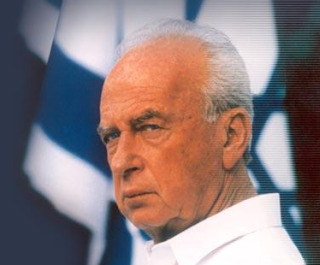 American baby-boomers will always remember where they were when President Kennedy was assassinated.
Israelis, who today are marking the 14th anniversary of Prime Minister Yitzhak Rabin's assassination, will always remember where they were when Rabin was murdered by an Israeli religious-nationalist Jew, determined to undermine the peace efforts of Rabin's government.
I was a reporter for Haaretz at the time, covering Palestinian affairs. When Rabin was shot and injured, my editor asked me to call Palestinian politicians for reactions. I contacted several Palestinian leaders and was on the phone with Saeb Erekat, the veteran Palestinian negotiator, when Rabin's assistant Eitan Haber emerged from the hospital in Tel Aviv, and read from a handwritten note: "The government of Israel announces in dismay, in great sadness, and in deep sorrow, the death of Prime Minister and Minister of Defense Yitzhak Rabin, who was murdered by an assassin, tonight in Tel Aviv. May his memory be blessed."

With tears in my eyes, I simultaneously translated the statement for Saeb, whom I had known for years as a tough Fatah activist and leader. His voice broke. This moment, Saeb said, underscores that the Israeli-Palestinian battle is not being fought between the two peoples but between moderates and the extremists. The murder will show that this is a contest between moderates and extremists on both sides: Between Israeli and Palestinian moderates, who yearn for peace and are resolved to pursue it, and Israeli and Palestinian extremists who are determined to thwart any compromise toward peace.

Saeb was right. And for a short while, following the assassination, most Israelis and Palestinians were hopeful that the shock and trauma of the murder would deal a defeating blow to those who view the Israeli-Palestinian conflict as a zero-sum game. They were hoping that the jolt would solidify the broad support on both sides for a viable Israeli- Palestinian peace settlement.

But it was precisely this notion, this hope for peace that the extremists feared. It motivated Palestinian militants to wage a wave of suicide bombings in Israel to derail the peace process. It was this hope that motivated Jewish terrorists to use violence to derail peace efforts. Whenever hope for peace emerged, it was challenged by the extremists, using physical and verbal violence.

The violence, the hatred, the enmity, the bloodshed, reinforced on both sides a sense of mutually exclusive victimhood. It solidified a mutually exclusive sense of self-righteousness. It created a thick layer of emotional scar tissue, for both Israelis and Palestinians, which blurred and concealed the common ground between the two peoples.

The political manifestation of this common ground is the two-state solution, a solution that will be the result of a negotiated, mutually-accepted separation between Israelis and Palestinians, an end to the occupation, a historic compromise between two conflicting narratives.

That is the hope - the only hope - for a viable Israel and a viable Palestine, for peace, security, justice and prosperity for both peoples. That is the hope, the future. And in order to reach this goal, Israelis and Palestinians - and their friends internationally - must realize again that the solution to the Israeli-Palestinian conflict is not a zero-sum game. Moderate Israelis and Palestinians - by far the majority on both sides - must come back to the realization that a two-state solution is a win-win, and that the alternatives entail only losses for both sides.

Underscoring that notion is a pivotal challenge for those in Israel, in Palestine and worldwide who support peace.