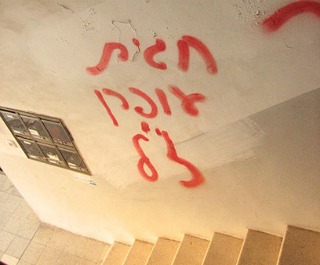 Ido (Sany) Arazi is a Tel Aviv graphic artist who designs posters for Israeli Peace organizations. Last week he was working on a poster for Yitzhak Rabin's Memorial Day, which will be marked tomorrow in Israel. Sany
prepared a sketch
saying "Israel Awaits Murder - 16 years after Rabin's murder and a little before the next murder." He put it aside because he thought it may be too alarmist.
Today, on his Facebook page, Sany wrote that it obviously is not. The terrorists who sprayed death threats at Hagit Ofran's Jerusalem home today left no room for doubt when they wrote: "Hagit Ofran, Rabin awaits you."
Hagit Ofran is an Israeli patriot who comes from a family of Jewish scholars. She is deeply steeped in Jewish ethical teachings. When she is not working for Peace Now, she volunteers at a Jerusalem-based organization that provides education and recreation to disabled children. Those who know her would undoubtedly agree that she is the proverbial "beautiful Israeli."
As the director of Peace Now's Settlement Watch project, Hagit documents and reports on settlement construction, and her work is often the basis for Peace Now legal action to stop illegal settlement construction or to reverse the theft of privately owned Palestinian land by West Bank settlers. She does that because she believes that settlements are an obstacle to Israeli-Palestinian peace, and because peace with the Palestinians is a prerequisite for a future Jewish and democratic Israel.
Hagit's work on settlements is why she is in the crosshairs of extremist settlers and their supporters. That's why the settlers want to intimidate and silence Peace Now.
Last night's attack was another link in a long chain of attacks on Peace Now. Death threats, physical attacks, vandalizing, attempted murders and the in 1983 the actual murder of Emile Grunzweig, one of Peace Now's founders and leading activists at a peace rally.
But it is not only extremist hooligans who are trying to silence Peace Now and other organizations that speak truth to power. Today the Israeli government and its supporters in the Knesset are also trying to do it - not through violence but with legislation. Today, Prime Minister Netanyahu expressed his support for a bill that targets progressive Israeli organizations by
curtailing their ability to raise funds
.
Peace Now refuses to be intimidated into silence or inaction. In the face of this targeting of the pro-peace community by the settlers and by large segments of Israel's political establishment, Peace Now today is leading a demonstration at Prime Minister Binyamin Netanyahu's home in Jerusalem. "The writing is again on the wall. This time we will not be silent,"
says the poster
inviting Israelis to support Peace Now and demonstrate with Hagit and her colleagues.
Americans who care about Israeli peace and democracy must also refuse to be silent in the face of these attacks. "Rabin Awaits You" ought to ring in the ears of us all, who sixteen years ago vowed: Never again.
Hagit said today that the settlers' threats won't deter her. "They are trying to intimidate us, but they will not succeed," she said.
As people who support a democratic, pluralistic Israel, consistent with our core values as Jews and Americans, we too, must not be deterred.
The settlers' response to terrorism has long been to build more settlements; our response to attacks on the Israeli peace camp must be to redouble our support for the efforts of Hagit and her colleagues, and make sure they know that American Jews stand with them in the fight for a secure, democratic Israel. We must stand against the poisonous political environment that brought about past political assassinations. "Rabin Awaits You" ought to ring in the ears of us all, who sixteen years ago vowed: Never again.