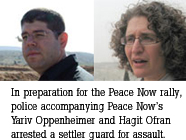 Peace Now will hold a demonstration on Thursday, August 26 outside the West Bank settlement of Talmon.
It will be a strong stand against the calls - coming from the Israeli right - for Israel to immediately build in settlements after the moratorium on new settlement construction expires next month.
There - at a site where settlers are planning to build hundreds of new housing units - Peace Now activists will make the case that continued settlement construction undermines the prospects for a two-state solution.
New construction will be a stab in the back to President Barack Obama's efforts to renew negotiations.
Tomorrow's demonstration is taking place despite the violence employed against Peace Now.
Yesterday, Peace Now Director Yariv Oppenheimer and Settlement Watch chief Hagit Ofran went to the West Bank with Israeli police officers to review Peace Now's application for a permit to hold the demonstration. Israeli law protects the rights of Israelis to hold rallies in settlements, just as Israelis are allowed to demonstrate in Israel proper.
A settler guard, however, refused to let the police and Peace Now representatives into the settlement. When the police officers got out of the vehicle, the guard struck them, according to the police. The settler guard was arrested for assault.
This incident shows that Peace Now's efforts are about more than supporting Israeli-Palestinian peace. Peace Now's work is also part of the battle over the very nature of Israeli society.
While Peace Now is exercising the right to freely assemble, settler spokespersons are saying that the guard was right to prevent Yariv and Hagit (and the police) from entering the settlement.
While Peace Now makes its case to the Israeli public through lawful means, our opponents resort to violence and show a disdain for the rule of law.
Yesterday's alleged assault is not an isolated incident: Two weeks ago, Peace Now activists were
attacked in a Tel Aviv bus station
while hanging banners supporting the two-state solution. Peace Now's director was on the
hit list
of settler terrorist Ya'akov Teitel, who was arrested last fall. Settlers
assaulted Peace Now activists
surveying settlement construction. Two years ago, a
bomb exploded
outside of the home of Peace Now activist Zeev Sternhell and his neighborhood was plastered with flyers offering a bounty of a million shekels "to anyone who will kill a member of Peace Now."
The violence that Peace Now faces pales in comparison with settler attacks on Palestinians. Radical settlers have adopted a
tactic of attacking Palestinians
and their property - as well as Israeli police and military officials - to deter Israel from cracking down on illegal settler construction.
Peace Now's work is primarily about bringing peace to Israel. At the same time, it is part of a fight over the very nature of Israeli society. Right-wing activists have tried to label Israeli democracy and peace organizations a fifth column. Vice Premier Moshe Ya'alon called Peace Now a "
virus
." An ugly
smear campaign
tried to discredit the important work of the New Israel Fund.
When Peace Now activists demonstrate against settlement construction tomorrow, they will defy these snubs. They will show that there is no contradiction in being pro-Israel and pro-peace.
Want to help? Here are three actions you can take:
1)
Send a message of support for tomorrow's Peace Now demonstration on Facebook
. Tell them that you appreciate what they do. Thank them for standing firm in the face of this opposition. Show that there are many Americans who - like them - believe in the struggle for peace for Israel.
Click here to go to Facebook
. Put your message on APN's wall. (If you are not already a fan, you will have to click on "Like" before you can comment).
2)
Make a donation to support Peace Now's work, including tomorrow's demonstration
.
3) Tell others. Americans deserve to know that there are Israelis who are standing up for peace, who are fighting to keep Israel a liberal democracy.