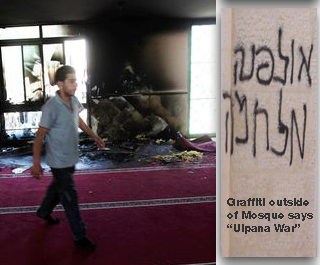 Extremist settlers are escalating their campaign to resist Israeli government attempts to remove five illegally built houses at the West Bank settlement of Beit El, near Ramallah.
As government representatives seem to be inching toward an agreement with settler leader to peacefully evict the houses, some of the more militant settlers are escalating their actions and rhetoric to try to hinder the eviction.
The five houses are part of Beit Ha-Ulpana neighborhood in Beit-El, which is partially built on land privately owned by Palestinians who reside in a nearby village.
Overnight, someone tried to torch a mosque at the Palestinian village of Jaba', near Ramallah, the perpetrators left graffiti saying: "Ulpana War," "The war has started," and "You shall pay the price."
Yesterday, Cabinet Minister Gilad Erdan and representatives of the settlers' Yesha Council proposed a plan for a peaceful eviction to the leaders of Beit-El's settlers. According to a report in today's Maariv, Erdan promised, on behalf of the government, to build 300 housing units in Beit El (to compensate by a ratio of ten for one for the eviction of the 30 apartments in the five Beit Ha-Ulpana houses), in exchange for a peaceful, voluntary eviction.
When Erdan and the Yesha Council member Zeev Hever left the meeting, they found their cars vandalized. Someone threw paint at Erdan's car and punctured the tires of Hever's SUV. Hever, ironically, was one of the leaders of the Jewish Underground, a terrorist group of settlers who in the early 19980s murdered and injured Palestinians in the West Bank.
In Beit-El, young settler activists are barricading the Ulpana neighborhood, in preparation for a confrontation. Israeli news organizations are reporting that militant settlers are preparing objects to throw at the police officers who will be assigned with evicting the illegal structures, including light bulbs and rocks. Pamphlets that were handed out in Beit-El and neighboring settlements in the past weeks include instructions on ways to damage police vehicles and erect roadblocks to prevent security forces from arriving at the scene.
According to Israeli press reports, the government is focusing its cajoling efforts on Rabbi Zalman Melamed, the rabbi of Beit-El and one of the ideological settlers' chief spiritual leaders. Melamed, a National-Religious conservative, recently called for "self-sacrifice" in resisting the government's law-enforcement efforts in Beit-El.
APN is closely following the showdown over Ulpana Hill, and will provide more news and analysis as we approach the July 1 deadline.