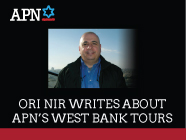 Dear Friend of Israel,

Who would you least expect to see joining a Peace Now tour of West Bank settlements? Right, West Bank settlers.
Well, guess what: when I recently joined such a tour in Jerusalem, I was surprised to meet several 18-year-old students from the settlement of Otniel, one of the ideological bastions of the settlement movement. Etai Mizrav, Peace Now's National Activities Coordinator and one of the tour's guides, told me that it's not that unusual to see settlers on these tours. "We get Israelis of all kinds - secular, religious, doves, hawks - everyone," he said. "People are curious. They hear about settlements and illegal outposts, and they want to see and understand what it's all about. It is that simple."
These Peace Now tours are indeed simple and honest. They offer the facts. Just the facts. Participants are given a map of the West Bank, and Peace Now's staff-experts on settlement construction - patiently explain the most complex realities in plain terms. No hyperbole. No spin.
On the way back to Jerusalem, I asked one of the settlers, a smart, well-informed, polite student named Dvir, why he joined the tour. He replied, "In order to hear the other side." And when asked what he thought of the "other side," he said that although he deeply disagrees with Peace Now, he appreciates the movement. Peace Now is honest, fair and tolerant, he said. He added, "we, on the right, have much to learn from Peace Now's civilized discourse. I know the right, and I don't think a right-wing organization would tolerate ­dissent the way Peace Now does."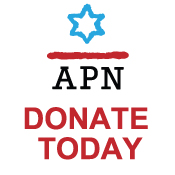 On a hilltop in the large settlement of Ariel, overlooking several Palestinian villages, I had a fascinating conversation with a young woman from Tel Aviv, not a Peace Now activist, who joined the tour after - having a political argument with her husband. The husband is an equestrian, who recently discovered a dude-ranch in a West Bank settlement and fell in love with the beautiful terrain and with the handful of settlers who run the ranch. Salt of the earth, he told his wife. She countered, "your friends may be wonderful people, but their settlement project is undermining the future of the state." Peace Now's tour substantiated her argument, she said.
The tour lasted six hours. We traveled from east Jerusalem to the outskirts of Ramallah, and continued north to the outskirts of Nablus. We saw some of the largest, oldest settlements, and we saw some of the new illegal outposts. We saw Ramallah and Nablus on the horizon. We saw roadblocks and an ­incarceration center. We saw the separation barrier, roads for Jews, roads for Palestinians - snippets of the insanity that the occupation is.
I have been to the West Bank hundreds of times, and still I learned a lot from Etai and from Lior Amichai of Peace Now's Settlements Watch project, the other tour guide. Lior is a 27-year-old university graduate and, like Etai, an IDF reservist. He is relatively new with Peace Now, but he sure knows his stuff.
For people who have never been to the West Bank - or for those who have been there years ago and, like most Israelis, have long been feeling that they have no business going there - these Peace Now tours are indispensable. They are an eye-opening experience. And Peace Now is the only organization that runs such tours routinely.
There is high demand for Peace Now's tours. The bus that I sat on was almost full. The tours are free - because Peace Now wants to make them accessible to all. But they are not cost free. The cost of one seat on the bus is around $60. Most of the funding for this program comes from contributions that Americans for Peace Now collects here, in the United States, for our Israeli sister organization, Peace Now.
Help our colleagues at Peace Now educate more Israelis about the occupation and about peace. Buy one seat on the next bus to the West Bank, or - if you can - buy two, or five, or ten. Your tax-deductible donation will be ear-marked for this important program.
Thank you,
Ori Nir
P.S. If you buy two or more seats on the bus (a contribution of $120 or more), we will mail you an English version of the map that Peace Now hands out to Israelis who take part in its West Bank tours. The large, two-sided map shows the layout of West Bank settlements on one side and a close-up of East Jerusalem on the other side.