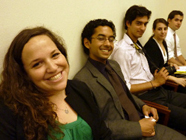 Are you passionate about achieving Middle East peace? Are you ready to take your activism to the next level? Are you a college student who is looking to get some work experience? Maybe you should apply for an internship at Americans for Peace Now.
APN is seeking interns to work in our Washington, DC office for the Spring 2012 semester.
Intern duties may include the following:
Organizing events to reach out to interns at other organizations.
Tracking coverage of the peace process in Jewish and other major news outlets.
Conducting legislative research.
Utilizing new media tools to publicize APN's message.
Research and writing opportunities (based on experience).
Assisting in administrative work.
Qualifications:
Strong written and communication skills.
Computer and internet research skills.
Knowledge of the Middle East and the Arab-Israeli peace process.
Experience in film editing, graphic design, social media, or web development a plus.
A special effort will be made to find projects for interns within their field of interest. Interns will be exposed to legislative strategy and the day-to-day workings of the Middle East peace process. Candidates who can commit to working at least 20 hours per week are preferred. This is an unpaid position.
Applications considered on a rolling basis. Please e-mail a resume, cover letter, and writing sample to:
Alison Lynn, Americans for Peace Now
Attn: Internship Program alynn@peacenow.org