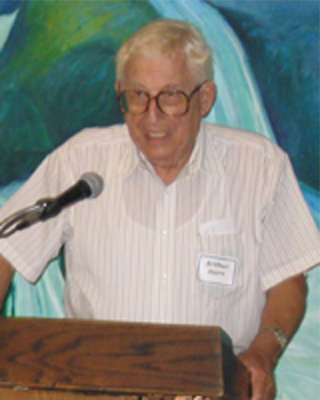 Arthur Stern, pictured right, was an APN Board and Executive Committee Member, and SoCal Regional Co-Chair. He recently passed away and as per his request, fellow APN leader Sandy Weiner gave one of the eulogies.

------------------------------------------------
(May 29. 2012)
I feel so fortunate and privileged to have known Arthur. For the last 3 plus years I have been Arthur's junior partner - serving as his co-chair of Peace Now in Los Angeles.
We got together often - frequently having breakfast with David Pine at the same table at Factors. These were special times for me. Yes, we would talk about future plans and programs. And Arthur would frequently express frustration with the peace process, the direction of the Israeli government and our failure to reach out to more people. But it was also a time to talk about current events, religion, history, family - and it was an opportunity for me to learn more and more about Arthur's incredible life. His experiences in Europe living and surviving through World War II certainly influenced his outrage with injustice and oppression He provided us a moral compass.
Arthur didn't just summarize events -- he told stories with such vivid detail that they would make 3d seem like primitive technology. I would walk away in awe of Arthur's amazing intellect and eloquence.
As pessimistic as Arthur could be about the possibility of ending the Israeli-Palestinian conflict, he never turned away from giving his time and support. Although his impatience, language and at times his temper were legendary, he was also self-critical. Arthur paid his dues dearly to earn the right to be provocative and to have a different standard of self-censorship.
Whether people agreed or disagreed with Arthur, they shared a common bond of admiration and respect for him.

Edith, a very exceptional and special person, and Arthur have always been very generous and gracious in hosting in their home so many meetings and programs over the years. No was not part of their vocabulary to opening their home for progressive causes.
Last week when news became known that Arthur might not have long to live, many board members, leaders and supporters of Peace Now have written very moving tributes.
Mark Rosenblum, founder of Americans for Peace Now wrote:
"I am flooded with so many memories of Arthur. With his twinkling eyes and true moral compass, Arthur has refused to remain silent or still in the face of selective humanity."
"At the Kalandia checkpoint outside Jerusalem, he insisted on getting off the APN bus and direct traffic as he muttered over and over 'how can they treat the Palestinians like animals'. He wasn't so successful as a traffic cop but managed to strike up a rather heated conversation with an Israeli officer, who to this day probably remembers Arthur."
Peter Edelman, APN Board member, Georgetown Law Professor and former head of APN and NIF wrote: "I can only add to all of the wonderful tributes that Arthur's granddaughter, Naomi, was my student a few years ago. Arthur was justly proud of her and I was so pleased to see that the family spirit, intelligence and values were fully present in the third generation."
Longtime APN and community leader Jerry Bubis is unfortunately unable to be here to express his deep admiration for Arthur, as he is undergoing a planned surgical procedure today. He and Ruby have been very close to Arthur and Edith.
Arthur leaves a deep and lasting impression on many in Israel.
Peace Now's Director in Israel Yariv Oppenheimer wrote: "I felt Arthur knew the situation better than some of my best friends in Israel... Arthur was a great friend to Israel and a huge inspiration to me.
Hagit Ofran, Peace Now's Settlement Watch Director, said: "My heart fills with a feeling of connection to someone who was part of my extended family. Edith, may you find comfort in all that Arthur accomplished and so generously gave, both to us personally and more widely to the world."
These are just a small sampling of the many tributes reflecting on how important Arthur was to so many.
Arthur was not only my friend; he was my mentor and a guiding light. I will miss him very much.
-- Sandy Weiner