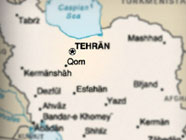 The House is scheduled to vote tomorrow on
H. Res. 568
, an Iran-focused resolution that seeks to lower the bar for war, to tie the President's hands in negotiations, and to effectively take all options, except the military option, off the table. It appears to be no coincidence that this resolution is being brought to a vote now, just as a new round of Iran diplomacy is set to take place on May 23.
Call your member of Congress today and tell them: vote "No" or "Present" on H. Res. 568.
H. Res. 568 was introduced in March during the AIPAC policy conference and has been a centerpiece of AIPAC lobbying since then. It is being brought to a vote under "suspension of the rules" - meaning that the House will vote on a piece of legislation that could have profound impact on U.S. national security and the possibility of war, without there ever having been a single hearing or any debate regarding its contents.
Tell your Member of Congress: don't let yourself be manipulated by those who want another Middle East war.
Passage of H. Res. 568 appears to send a message that Congress wants another war, especially given that the resolution does not include any language making clear that it is not an authorization of use of force. It comes on the heels of last week's House passage (also under suspension of the rules) of
HR 4133
, another AIPAC-backed initiative which included provisions that appear to support Israeli military action against Iran.
Tell Congress to demand hearings during which the contents of H. Res. 568 can be debated and amended, including to make clear that it includes no authorization of use of force.
There is no question that a nuclear-armed Iran would pose a serious threat to Israel and U.S. national security interests. Addressing this threat requires a sober, rational approach, not the ill-considered adoption of dangerously reckless legislation.
In this election season, members of Congress are under intense pressure. They need to hear from you. You need to let members of Congress know that they have engaged, active constituents, like you, who want them to do the right thing - not just the politically expedient thing - on issues of vital importance to the U.S. and Israel, including Iran.
PS: For a summary of the specific flaws in H. Res. 568 (and its Senate companion, S. Res. 380), as well as suggested ways these flaws could be fixed if Congress held hearings on these resolutions, see
here
.