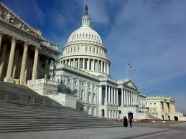 Recently, thousands of activists were on Capitol Hill, brought there by AIPAC. They told members of Congress and their staff that they speak for all Americans, and especially American Jews, who care about Israel. These activists told Congress, in effect, to call for war with Iran. They also sent a message that achieving Israeli-Palestinian peace shouldn't be a priority.
Contact your own members of Congress today to tell them: AIPAC's activists don't speak for me.
There is no question that a nuclear-armed Iran would pose a serious threat to Israel and U.S. national security interests. Addressing this threat requires a sober, rational approach, not the adoption of reckless positions or support for precipitous military action. But AIPAC and its activists are pressing members of Congress to support resolutions (
H. Res. 568
or
S. Res. 380
) that effectively take all options off the table except military action, and that lower the bar for war.
Urge members of Congress to refuse to co-sponsor or vote for H. Res. 568/S. Res. 380 unless and until they are amended.
Likewise, Israeli-Palestinian peace is a vital U.S. and Israeli interest. Without peace, Israel cannot have real security and cannot survive as a Jewish state and a democracy. We know that resolute U.S. leadership is vital to achieving it. But the AIPAC-backed initiative introduced yesterday in the House (
HR 4133
) and Senate (
S. 2165
) barely mentions support for peace, or U.S. leadership to achieve peace.
Urge your Members of Congress to refuse to support these bills unless they are amended to also recognize the importance of Israeli-Palestinian peace and U.S. leadership to achieve it.
In this election season, members of Congress - like the President - are under intense pressure. They have heard from us (click
here
to see the message we sent to all Hill offices the day before the AIPAC lobby day). Now they need to hear from you. You need to let them know that AIPAC doesn't speak for all Jews or all Americans on these issues. You need to let members of Congress know that they have engaged, active constituents, like you, who want them to do the right thing - not just the politically expedient thing - on Iran and Israel.
PS: Some of you may have seen the op-ed in today's Wall Street Journal attacking Americans for Peace Now, the entire pro-Israel peace camp, and President Obama.
Today APN issued a statement jointly with J Street and the New Israel fund
responding to this outrageous attack. We encourage you to write
letters to the editor
responding to this article echoing this joint message or expressing your own.